When it comes to weddings, the spotlight isn't just on the bride and groom; the parents also play a significant role. For the mother of the bride or groom, choosing the perfect attire or best wedding saree is crucial. Sarees have always been a symbol of grace and elegance, and they hold immense cultural significance in Indian weddings.
In this article, we present a curated collection of sarees specifically designed for mothers, ensuring they look radiant and feel comfortable throughout the festivities or an intimate wedding. From exquisite Banarasi silks to delicate handlooms, these sarees strike the perfect balance between tradition and modernity, making them an ideal choice for pre-wedding functions or other special occasions.
List of Best Wedding Saree Trends for Bride-to-Brides-Mother.
1. The Rust Orange Banarasi Silk Woven Saree:
A Melange of Elegance and Tradition This saree, an epitome of elegance, is an ideal choice for your beloved mother to radiate grace and sophistication as the esteemed lady of the house.
Whether it's the auspicious Shagun ceremony or any pre-wedding function, this subtle yet captivating brocade saree adorned with delicate embellishments will make your mother feel both joyous and at ease. Its vibrant hue will uplift her spirits, even in moments of melancholy as she envisions bidding farewell to her beloved daughter on her wedding day.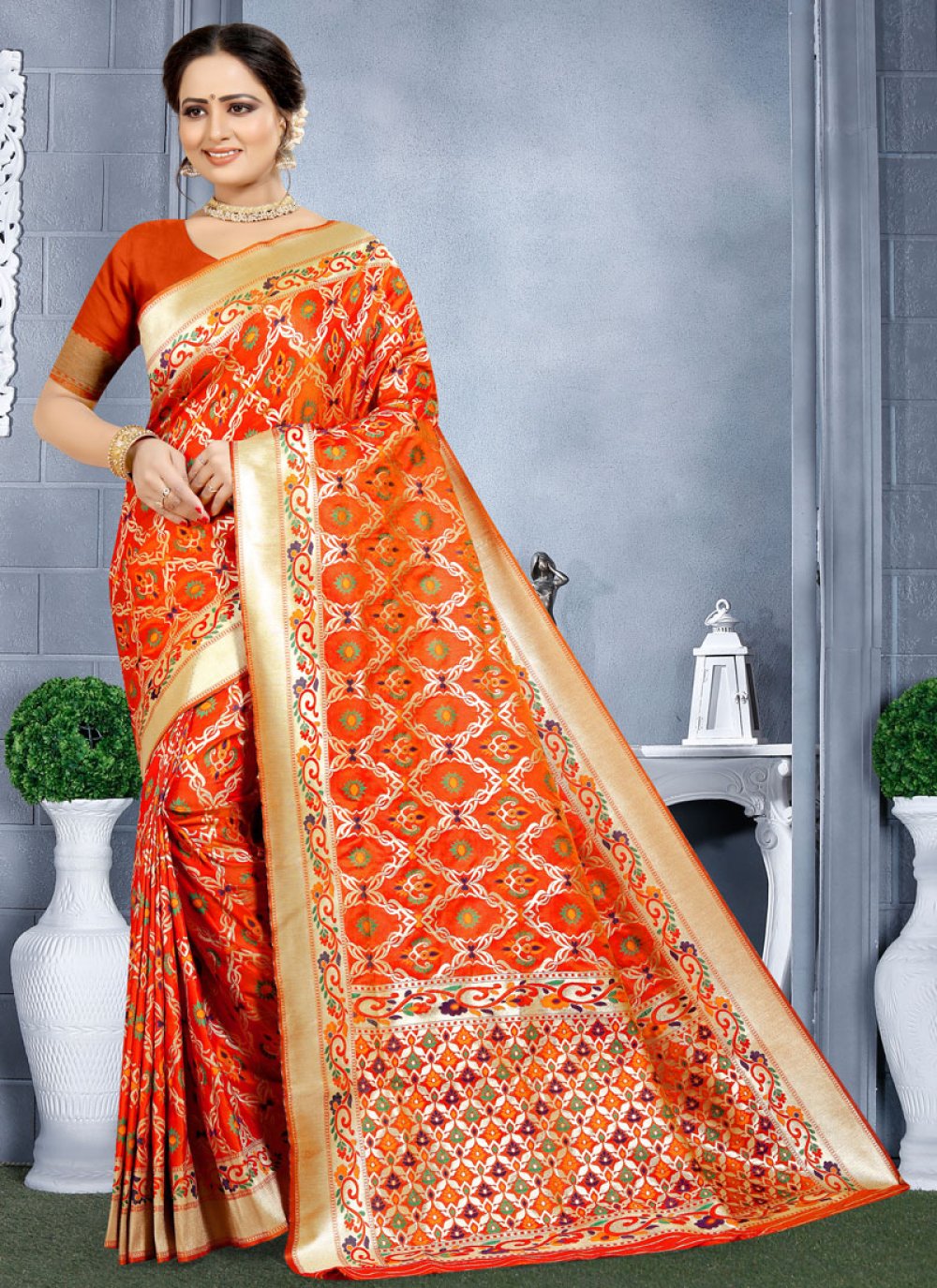 2. The Enchanting Orange and Peach Silk Half and Half Saree with Designer Blouse:
Let your mother indulge in the ethereal beauty of this pale peach and candy peach-pink half-and-half saree. With timeless embroidery and an elegant blouse, it's the perfect ensemble for your mother to grace any pre-wedding festivity or to make a lasting impression on your prospective in-laws.
Moreover, she can wear it to welcome you and your spouse during your first homecoming after the wedding. This flattering saree is light, easy to drape, and will provide comfort during the flurry of wedding ceremonies. Embrace the essence of summer weddings with this splendid creation!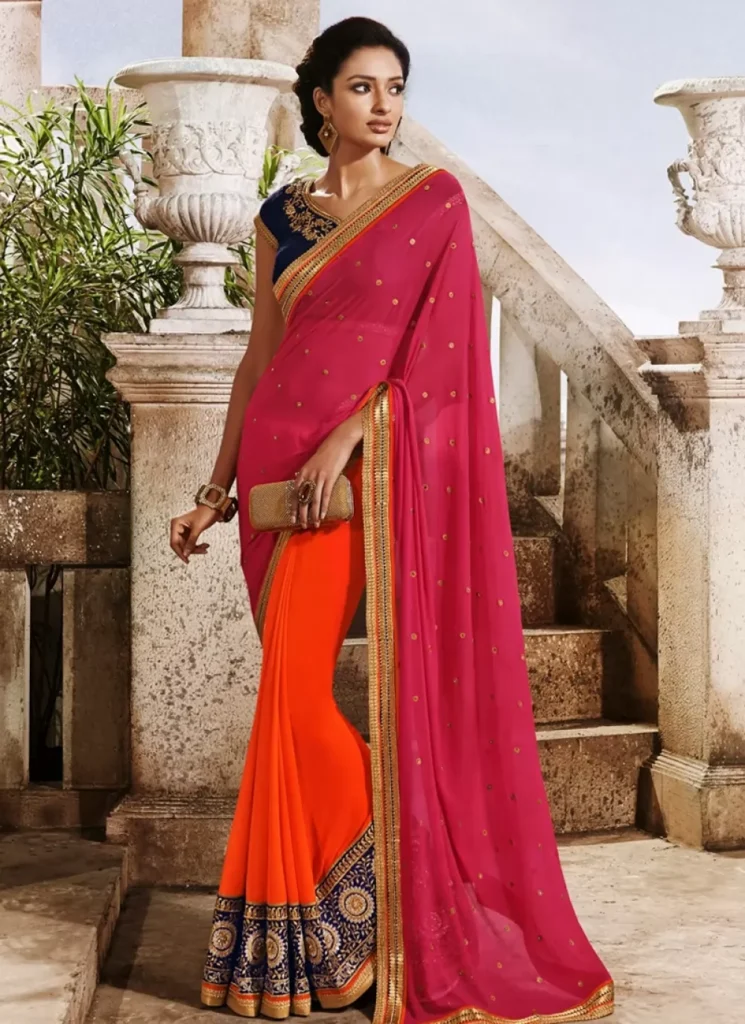 3. The Mesmerizing Blue and Red Silk Woven Saree With Patola Print:
A resplendent sight in pink and green, this saree is a dream come true for mothers of the bride. The traditional Patola design, coupled with the deep, grounding colors and timeless patterns of this exquisite silk saree, make it an excellent choice for your mother.
The subtle embroidery along the borders adds a perfect touch to this otherwise traditional drape. Whether it's the sacred pheras or the grand reception ceremony, this saree will accentuate her beauty. And here's a secret—don't hesitate to borrow it from her later!
4. The Enigmatic Green Banarasi Silk Saree With Dual Tone:
While heavy brocades and Banarasi sarees have always been synonymous with weddings and brides, your mother may find them a tad overwhelming due to their half-and-half design.
However, your wedding presents the perfect opportunity for her to embrace this elegant trend. This enchanting silk drape, in a deep forest or emerald green shade, exudes timeless beauty that your mother will adore.
The vivacious play of patterns on the saree body adds a touch of allure without being ostentatious. Furthermore, its radiant green hue will ensure she stands out among other mothers. This exquisite saree is our top recommendation for your mother on your special day.
5. The Pink Banarasi Silk Saree With Double Blouse:
A Floral Extravaganza Is your mother a connoisseur of rich hand-woven sarees adorned with intricate floral motifs? Well, what better occasion for her to flaunt her personal favorites than your wedding day? Delight her with this pearl-pink masterpiece featuring vibrant flowers intricately woven into its fabric, complemented by an embellished border.
The lustrous gold zari and pink pallu, adorned with white, blue, and green petals, are bound to captivate everyone's attention. This youthful yet elegant silk saree, with its designer border running along its length, is a perfect choice for a sangeet or reception, be it for the mother of the groom or the bride.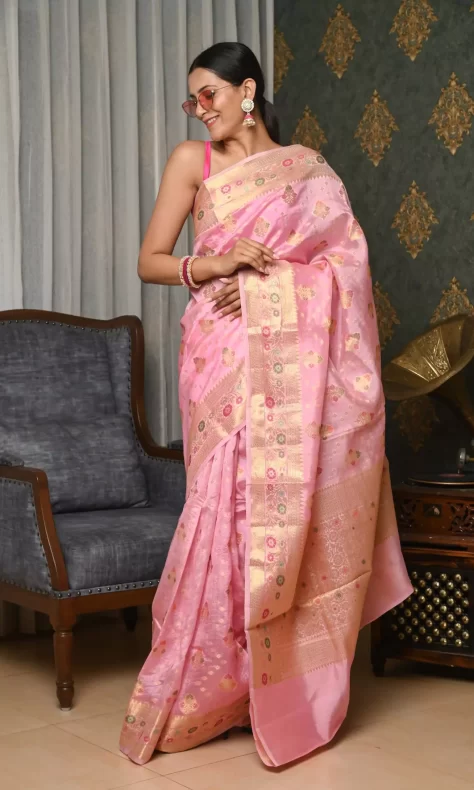 6. The Pink and Multi-Colored Banarasi Silk Saree:
A Testament to Subtle Royalty This timeless half saree, featuring a chevron patterned body and Persian motifs on the pallu, showcases the classic color combination of beige, maroon, and pink. These hues hold a special place in my mother's heart, and I'm sure they resonate with your mother as well.
This unique weave pattern, coupled with the understated royal elegance of a traditional Banarasi drape, ensures that your mother won't get lost amidst a sea of flamboyant outfits and dresses on your wedding day. Embrace this gorgeous, out-of-this-world pick for the most important day of your life, even if it's a daytime affair.
7. The Dreamy Cream Banarasi Silk Saree:
A Timeless Delight Words fall short when describing the ethereal beauty of this cream-colored traditional saree, adorned with purple-pink facing, a statement embroidered blouse, and adorable tassels.
The Patola-styled Bindi motifs, accompanied by green and pink mirror work, make this beige-gold saree both pleasing and endearing. Its subtle coloring makes it suitable for all age groups, exuding chicness for the younger generation and elegance for the more mature.
This saree is not only perfect for your mother but also an excellent choice for your classy grandmother. If your mother-in-law adores neutral hues, this saree will undoubtedly make you her favorite for years to come!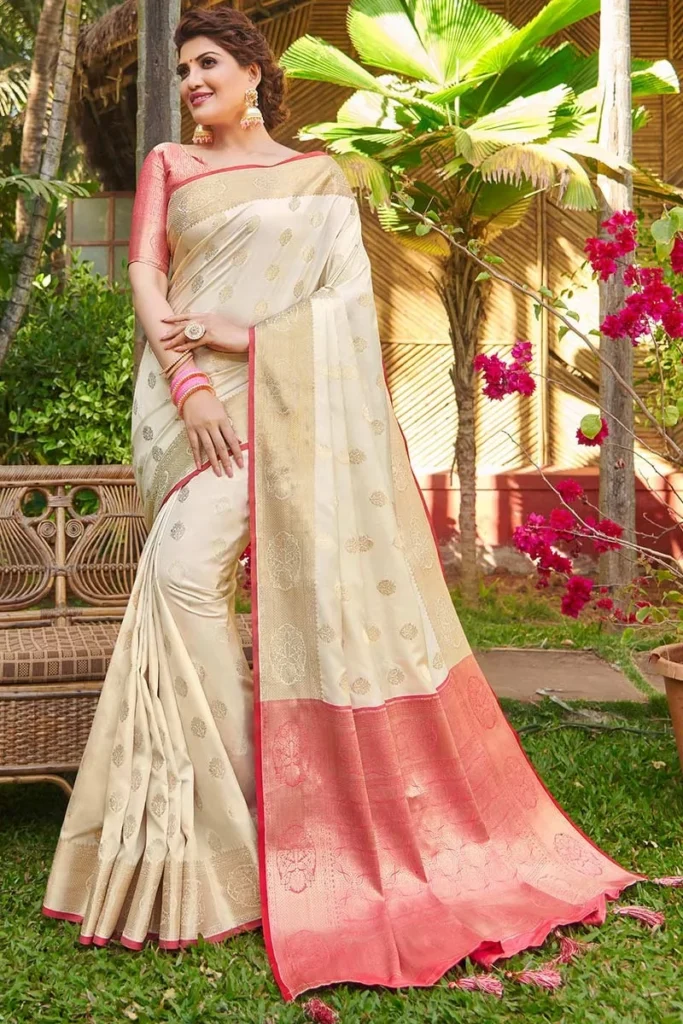 8. The Purple Handloom Silk Saree:
A Timeless Classic This saree has stood the test of time and continues to enchant women of all ages. Its captivating shade of pink holds a timeless appeal, making it an ideal gift.
Lightweight and stylish, it's perfect for daytime events and sultry weather. Its simplicity is its greatest asset, allowing it to harmonize effortlessly with your mother's accessories and jewelry. With no elaborate border, just the classic Zari, it holds a special place in the hearts of those who appreciate old-world styling. Your mother can even pair it with a designer blouse to add a modern touch.
Rest assured, this Barbie-pink saree will ensure your mother looks eternally youthful on your wedding day, even if her mind ages with the weight of worries.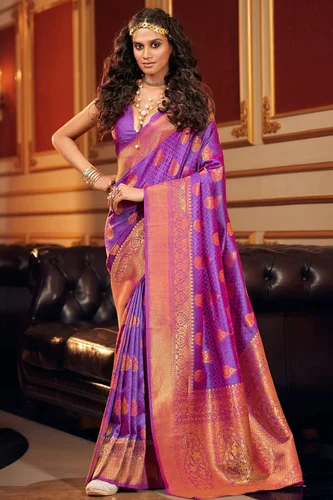 9. The Mustard Yellow Art Silk Saree With Zari Embroidery:
A Breath of Fresh Air Amidst a sea of greens, reds, and maroons, we understand that mothers seek a breath of fresh air not only in terms of simpler and lighter sarees but also in terms of color variety.
Hence, we present this smooth silk saree in a delightful mustard yellow shade, adorned with elegant embroidery and minimalistic details. Its lightweight and fuss-free nature make it a perfect choice.
Moreover, it aligns with the current wedding season's most beloved color palette—yellows and neutrals. This sweet yet slightly overlooked hue exudes grace, classiness, and auspiciousness, making it perfect for rituals and wedding ceremonies such as mehendi, Ganesh sthapana, pheras, and other sacred poojas. Your mother will love it, and so will you! 10. The Captivating Pink Bemberg Saree With Embroidery or Polka Dot:
A Stylish Affair Is your mother perplexed about what to wear for the glamorous cocktail party or pre-wedding bash you've organized? Offer her solace with this stunning, ethereal Lucknowi Chikankari saree in a captivating shade of baby pink.
It is undeniably a youthful and chic choice, while its subtle styling ensures it becomes the centerpiece of the evening, adored by your dearest mother. We especially recommend this saree!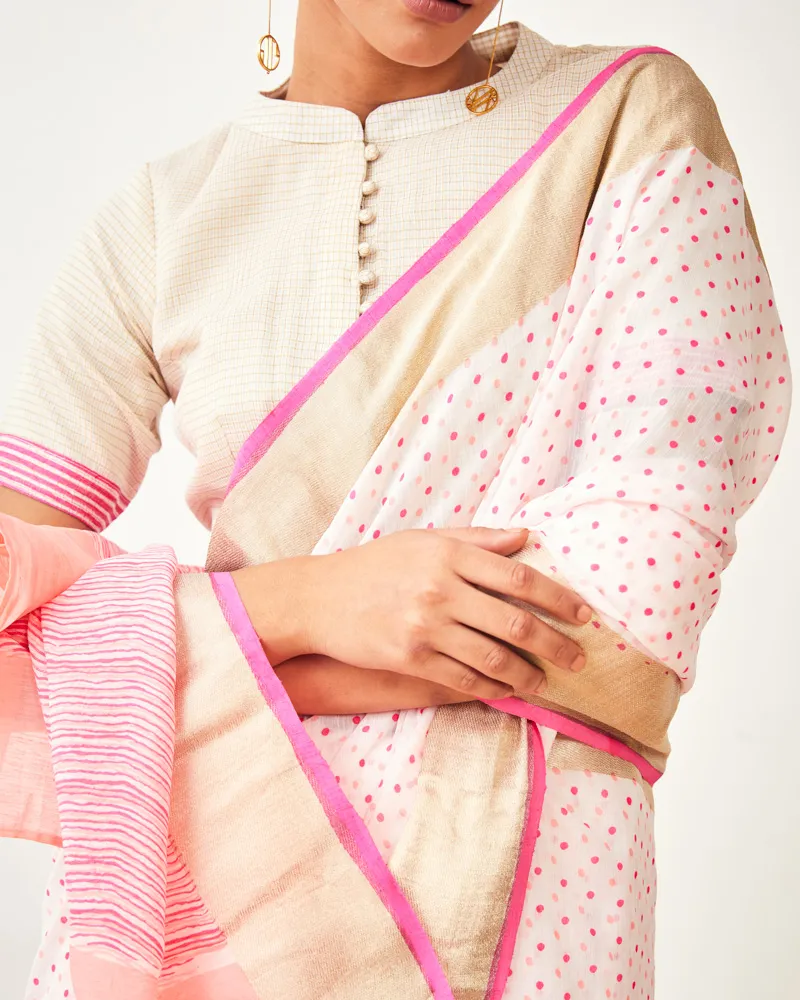 11. The Cream Silk Multi-Colored Jaal Woven Saree With Golden Pallu:
Embrace Vibrancy Who says your mother must stick to subtle, mature colors for your wedding? Let her unleash her inner girl and opt for this stunning creation in candy pink and forest green.
This saree boasts rich borders and textures in the classic Kanjeevaram style, exuding charm and grace. The vibrant colors will make your mother glow on any of the wedding functions, whether she's the mother of the groom or the bride.
12. The Trendy Paris Green Silk Saree:
A Stylish Breakaway Are you tired of heavily woven drapes? It's highly likely that your mother shares the sentiment as she peruses the usual choices offered for Indian weddings and functions.
Let's give her a respite from such drapes and present her with a truly stylish and trendy plain saree. This saree is easy to drape, featuring a thin border and a smashing blouse.
It's a versatile pick that will come in handy when looking stylish is of utmost importance but time and patience are in short supply. The relaxed drape of this saree is excellent for mothers who prefer lighter fabrics due to health or weather considerations.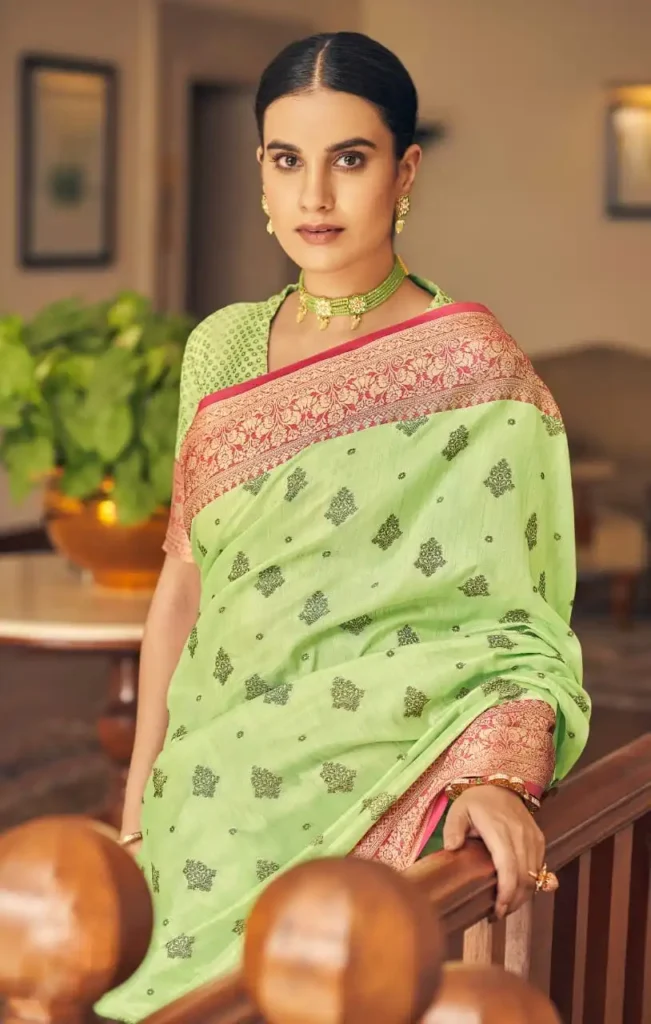 13. Wine Katan Silk Banarasi saree:
Indubitably, a Banarasi saree shall prove to be an impeccable choice to grace your maternal figure on the auspicious day of your connubial ceremony. Banarasi sarees, with their impeccable amalgamation of lustrous radiance, possess a unique texture and an unparalleled tactile sensation.
For the completion of the ensemble, your revered mother may opt for a sophisticated bun, a regal choker necklace, and a minimalistic touch of makeup. The addition of a brightly contrasting blouse shall impeccably harmonize with the resplendent Banarasi saree.
The opulence of this heavy-work saree, enriched with broad borders, renders it an ideal raiment for traditional Indian nuptials. For more information on indian matrimony check our guide.
14. Opt for contrasting hues:
A pistachio-hued saree, meticulously handpicked, shall be the epitome of sartorial elegance for your beloved mother on the sacred occasion of your matrimonial festivities. Should your esteemed matriarch have a penchant for lighter shades, a saree adorned with resplendent floral thread embroidery shall endow her with an aura of grace and charm that knows no bounds.
The meticulous pairing of diamond jewelry or Kundan earrings, complemented by exquisite hair chains, shall consummate the ensemble. As a timeless choice for Indian weddings, this heavy-work saree, resplendent with embellished borders, shall become a classic expression of sartorial finesse. 15. Aubergine & mustard saree:
Our admiration knows no bounds for the audacious mother of the bride who, resplendent and confident, dons an exquisite aubergine and mustard saree embellished with intricate workmanship. This resplendent ensemble, when united with classic gold jewelry, shall transcend all notions of ostentation and encapsulate the regal essence befitting her majesty.
In the realm of Indian weddings, where opulence reigns supreme, this heavy-work saree shall transform your revered mother into an embodiment of sovereign splendor, unapologetically embracing her rightful place as the queen she undeniably is.
16. Gold & grey embellished saree :
An embodiment of avant-garde fashion sensibilities, this resplendent grey and gold saree stands as a testament to the discerning taste of mothers who possess an innate proclivity for dark hues. The impeccable amalgamation of black and gold evokes a sense of harmonious opulence, and when adorning your revered mother, it becomes an undeniable manifestation of elegance.
Pairing this heavy-work saree, resplendent with intricate embellishments, with an embroidered blouse and regal jewelry shall evoke an air of unapologetic grandeur, a true embodiment of refined sophistication.
17. Bandhani saree:
Resurgence has gracefully bestowed upon Indian wardrobes the resplendent Bandhej saree. A heavy Bandhej saree, adorning the graceful form of your esteemed mother, shall radiate sheer magnificence when paired with resplendent gold jewelry.
The understated allure of this saree finds its ideal counterpart in a meticulously crafted bun, seamlessly aligning with the inherent charm exuded by this garment.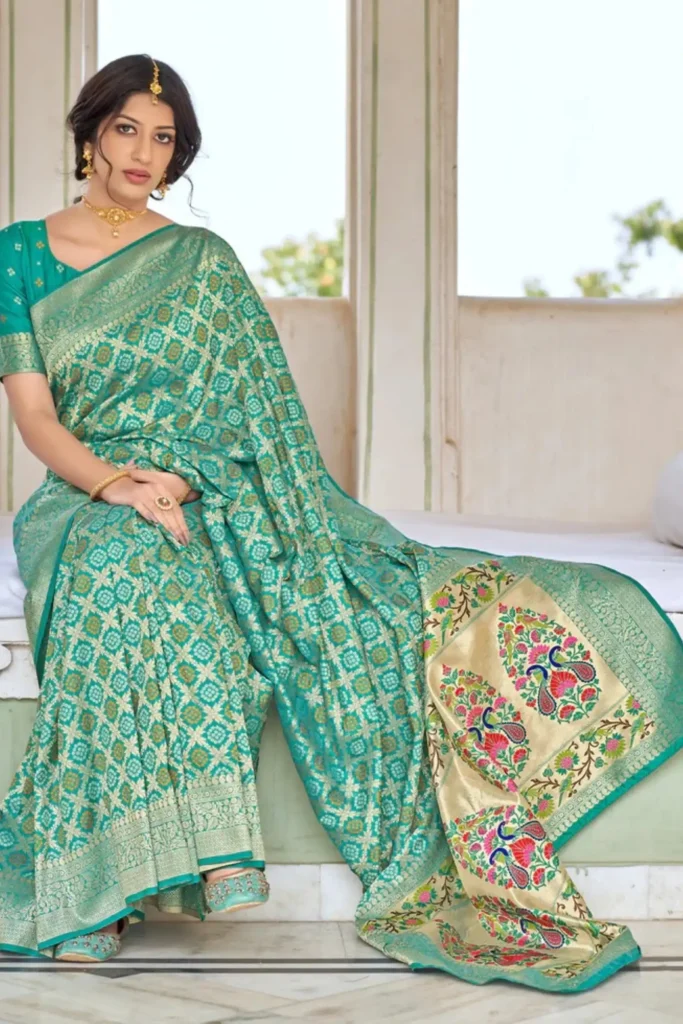 18. Brocade saree:
To commemorate the jubilant festivities of your nuptial celebrations, there exists no more fitting attire for the mothers than the resplendent silk saree.
A quintessential exemplar of heavy-work festive sarees, these ensembles not only pay homage to the exuberant ambiance of the festivities but also serve as a testament to sartorial sophistication. A daring choice of lip color, an immaculately arranged gajra, and eyes adorned with kohl shall conspire to ensure your revered mother claims the spotlight as the cynosure of all attention.
19: Ombre Silk Saree:
An alternative par excellence for your cherished mother is the understated elegance of a simple lilac silk saree. Notice the meticulously woven floral patterns, adorning its entirety?
Whether embellished with an extensive border design or a more understated variant, a silk saree represents an age-appropriate choice that befits the sanctity of Indian weddings.
20. Gota Patti work saree:
The charm emanating from a resplendent Gota Patti saree remains unparalleled, transcending the boundaries of time and fashion. Behold the divine embodiment of the mother of the bride, effortlessly adorning her mirror-work-designed Gota Patti saree, perfectly harmonizing it with a matching blouse.
The intricate heavy workmanship of Gota Patti, interwoven throughout the fabric, serves to accentuate the overall resplendence of the saree. The judicious selection of gold accessories serves as the ideal complement, further amplifying the allure of this ensemble.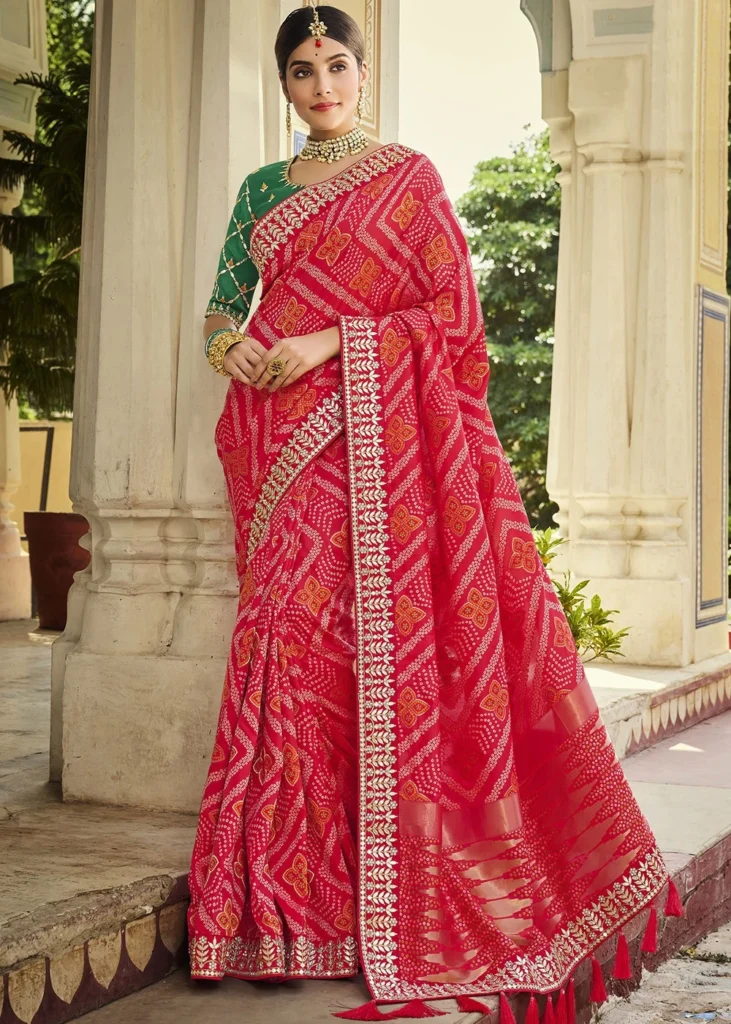 21: Yellow saree with an embroidered blouse:
A resplendent yellow heavy-work saree, befittingly draped by the mother of the bride or groom on the joyous occasion of your wedding day, shall undoubtedly evoke a palpable sense of sartorial exuberance.
Though yellow may be considered a less favored choice, except for daytime weddings, a raw silk saree adorned with silver embellishments, as depicted in the accompanying image, shall indisputably serve as a magnificent attire. The inclusion of a heavy blouse shall serve as the pièce de résistance, elevating her aesthetic to uncharted realms of grandeur.
Conclusion
Every mother deserves to look and feel their best on their child's wedding day. The collection of sarees presented here provides a diverse range of options that embrace the essence of traditional elegance while catering to the modern sensibilities of mothers. With these exquisite sarees, your mother can make a fashion statement that reflects her unique style, radiating grace and sophistication throughout the celebrations. Choose a saree that resonates with her personality, and witness her shine as the proud and elegant mother of the bride or groom. You can also check our blog on questions that should be ask during matrimonial.
FAQ
What makes these sarees ideal for the mother of the bride or groom?

These sarees are carefully selected to cater to the specific needs of mothers during wedding celebrations. They offer a blend of timeless elegance, comfort, and versatility, allowing mothers to make a graceful statement while feeling at ease throughout the festivities

Can these sarees be worn for occasions other than weddings?

Absolutely! These sarees are not limited to weddings alone. They can be worn for various special occasions, cultural events, festivals, or even formal gatherings. Their versatility ensures that mothers can make the most out of their wardrobe investment.

Are these sarees suitable for different body types?

Yes, the collection encompasses a wide range of sarees that cater to various body types and preferences. Whether your mother prefers lightweight fabrics, subtle patterns, or bold designs, there is a saree that will flatter her silhouette and enhance her natural beauty.

Can these sarees be paired with different accessories?

Certainly! The beauty of sarees lies in their versatility, allowing them to be paired with a myriad of accessories. Your mother can experiment with different jewelry, blouses, and hairstyles to create her unique style statement while complementing the chosen saree.

How do I choose the perfect saree for my mother?

Consider her personal preferences, style, and comfort when selecting a saree. Take into account the occasion, the color palette that suits her complexion, and her desired level of embellishments. It's always a good idea to involve her in the decision-making process to ensure she feels confident and beautiful in her chosen attire.