The world of Bollywood bridal fashion has witnessed a remarkable shift in recent times, with brides embracing unconventional, mesmerizing outfits and B-Town Bridal Mehndi look.
Gone are the days when the traditional lehenga dominated the bridal wardrobe. Today, brides are seeking inspiration from the iconic styles of Bollywood celebrities, who have set new trends with their unforgettable mehndi looks.
If you're looking for a B-Town Bridal Mehndi look that breaks away from the norm, these B-Town brides have the perfect inspiration for you. Let their captivating and awe-inspiring looks guide you in creating a truly unforgettable mehndi appearance. You can also read our Guide on Happy Indian Marriage with matrimilan.
List of B-Town Bridal Mehndi Looks
Kiara Advani: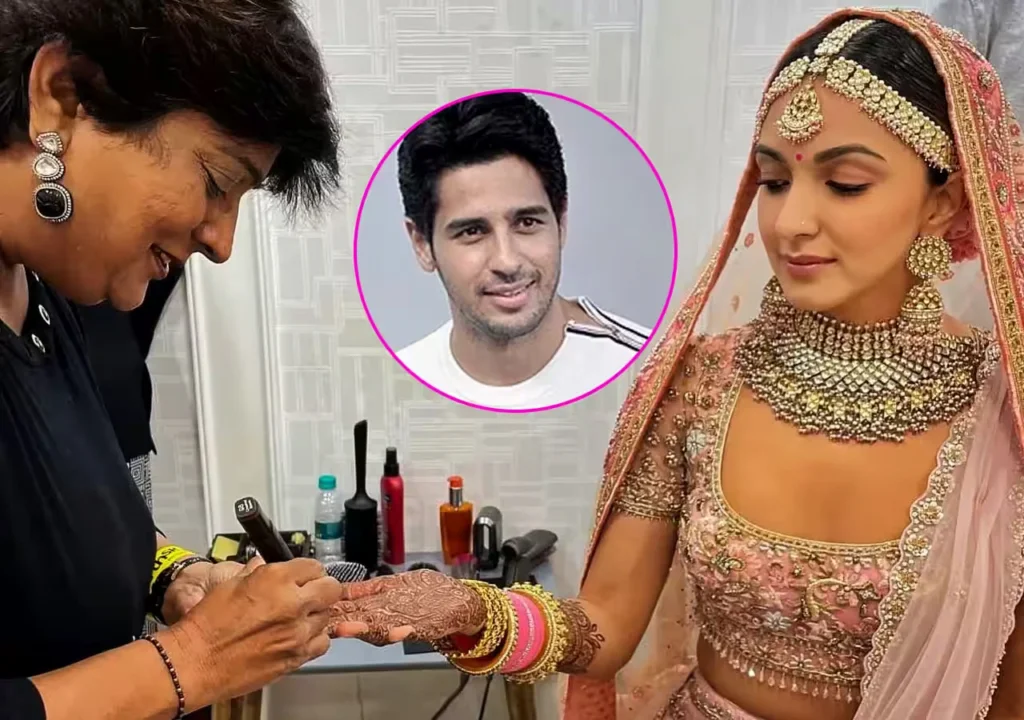 Kiara Advani's mehndi look exuded sunshine and elegance. She wore a mesmerizing ivory and gold chikankari lehenga designed by Manish Malhotra. The addition of an ochre dupatta provided a stunning pop of color, making her ensemble absolutely breathtaking.
Alia Bhatt:
Alia Bhatt's mehndi ensemble was a dreamy affair. She donned a fuchsia pink lehenga, featuring intricate patchwork, custom-made by the renowned designer Manish Malhotra.
Composed of 180 textile patches, each showcasing a unique blend of luxurious fabrics, this masterpiece showcased the designer's exceptional creativity. Alia looked like a regal princess, radiating confidence and grace with every step she took.
Athiya Shetty: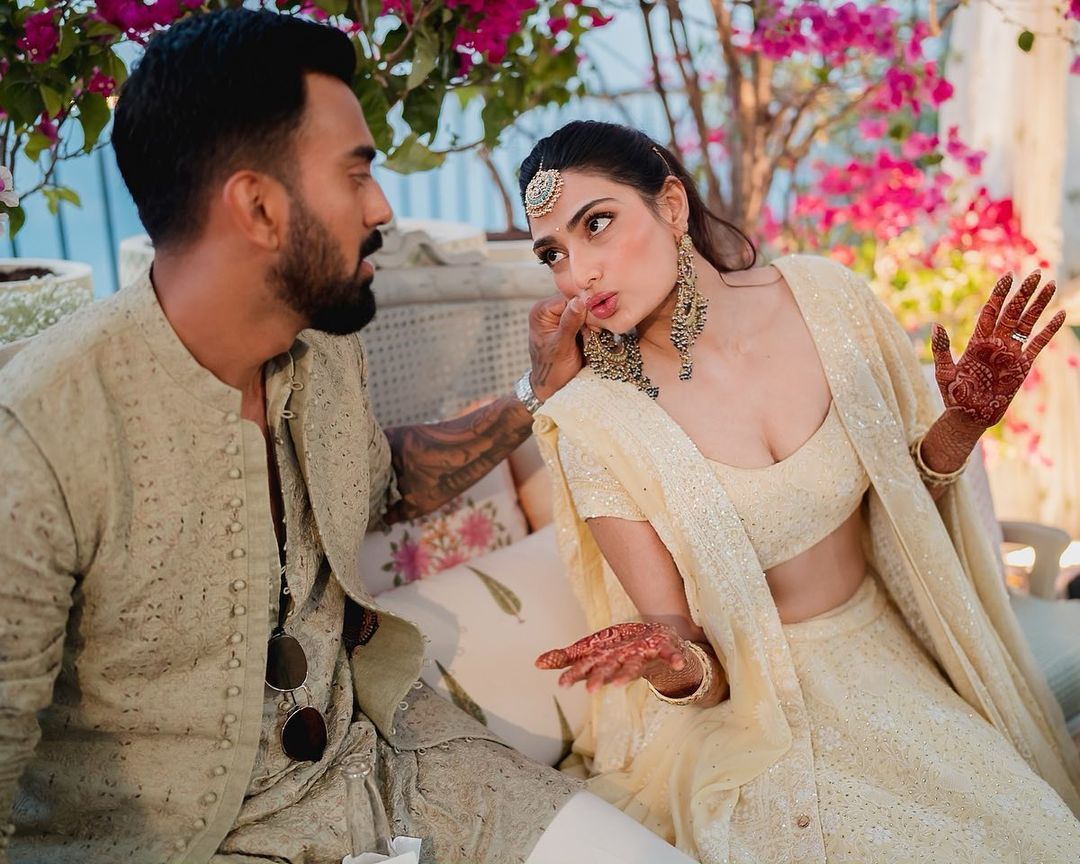 Athiya Shetty looked resplendent in a custom-made chikankari lehenga of exquisite muted hue crafted by Anjul Bhandari. The intricate embroidery on the lehenga was a result of meticulous hand-weaving by women artisans from the villages surrounding Lucknow. 
Adding a touch of sentimental value, Athiya chose to wear antique earrings that belonged to her beloved Nani, perfectly complemented by a mang-tikka and bangles.
Alanna Pandey: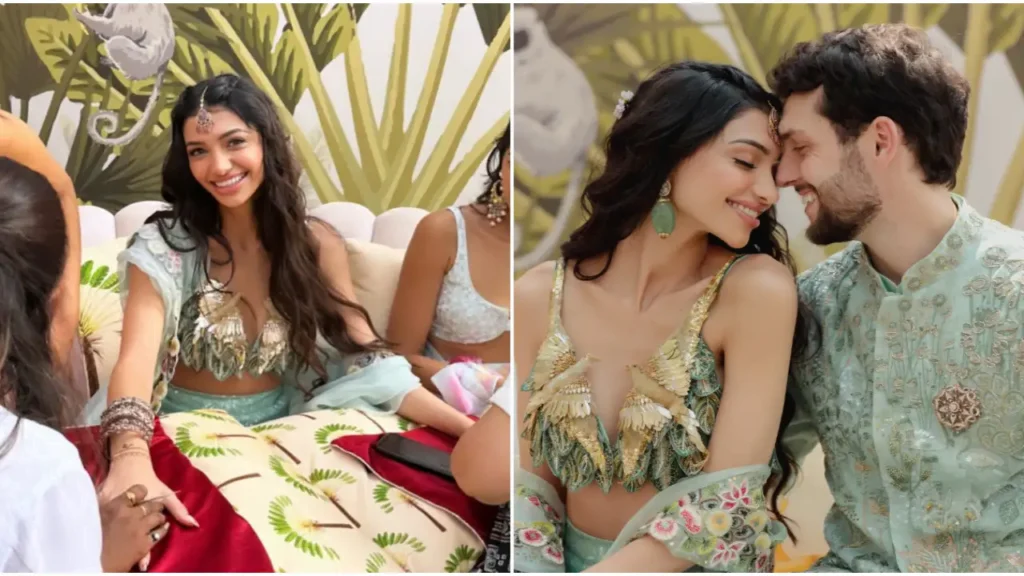 Alanna Pandey's mehndi look was a cherry on top of her stunning bridal appearances. She wore an ethereal lehenga by acclaimed designer Rahul Mishra. 
Adorned with intricate embellishments and rendered in a sublime shade of sage green, the ensemble perfectly accentuated her natural beauty. The edgy blouse added a contemporary flair to the traditional outfit, setting her look apart.
Katrina Kaif: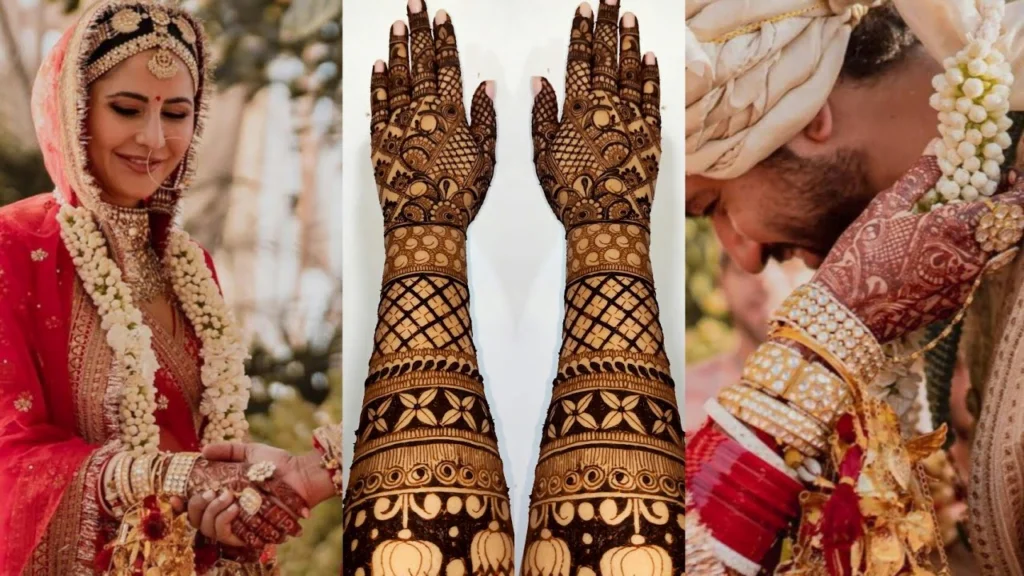 Katrina Kaif opted for an earthy tones lehenga with multiple panels, capturing hearts with its beauty. This stunning creation by Sabyasachi Mukherjee was perfect for brides looking for a muted color palette that exudes elegance and sophistication.
Arpita Mehta: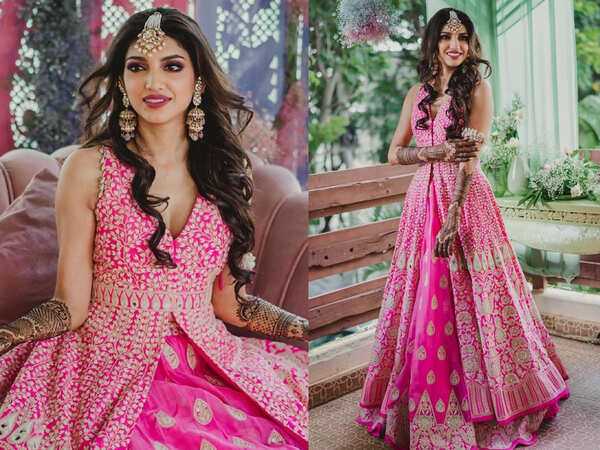 Designer Arpita Mehta showcased her own label's brilliance with a seafoam beauty featuring a cape-style dupatta drape for her mehndi. The outfit was an outstanding creation, complemented by carefully selected jewelry and glamorous styling, reflecting Arpita's impeccable taste.
Shibani Dandekar: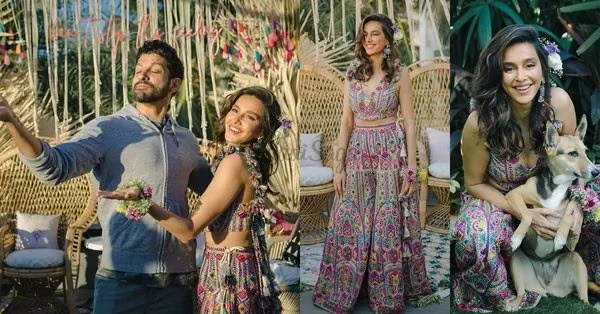 Bollywood bride Shibani Dandekar embraced a boho-chic look for her mehndi ceremony. She wore a stunning bohemian co-ord set designed by Payal Singhal. Adorned with tassels at the back, the outfit exuded a carefree and fashionable vibe, while the vibrant colors added to its allure.
Deepika Padukone: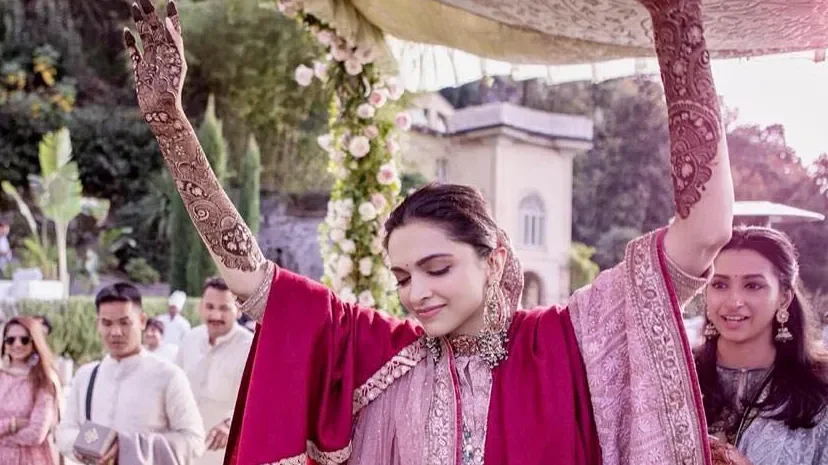 Deepika Padukone mesmerized everyone with her millennial pink mehndi outfit by Sabyasachi Mukherjee. She paired it with stunning emerald and pearl jewelry, creating a vibrant and fresh look.
The simplicity of the ensemble, with the exception of the lining of the dupatta, perfectly suited the open-air event, while her husband Ranveer Singh couldn't take his eyes off her beauty.
Anushka Sharma: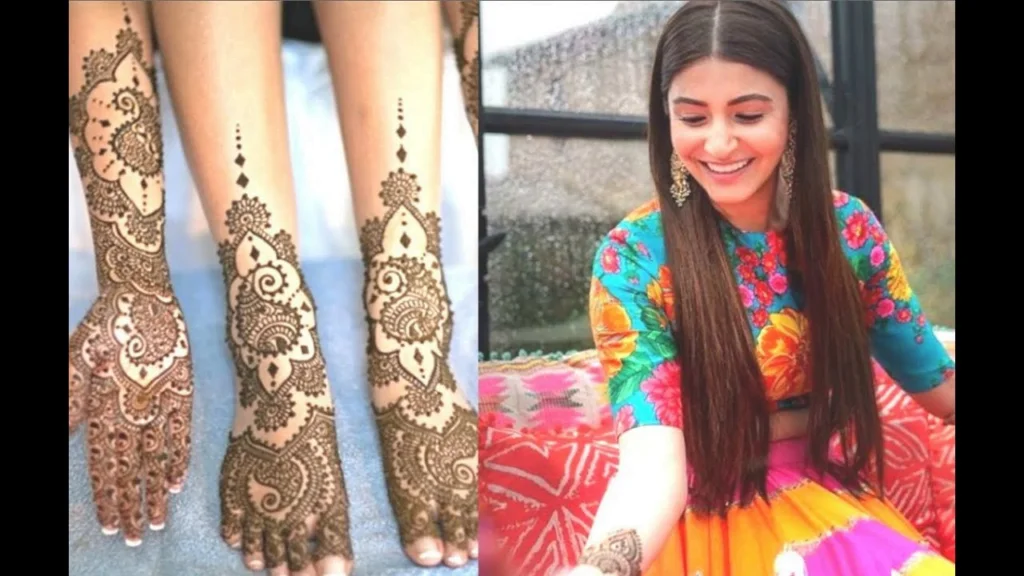 Anushka Sharma chose a graphic lehenga with a printed blue blouse for her mehndi ceremony. The outfit, created by artists from The Sabyasachi Art Foundation, featured a beautiful sixties pop print, hand-woven Indian silk.
Her sleek hair and minimal makeup beautifully balanced the boldness of the ensemble, and the choice of a bright hue for the mehndi added a striking contrast to her pastel bridal lehenga.
Priyanka Chopra: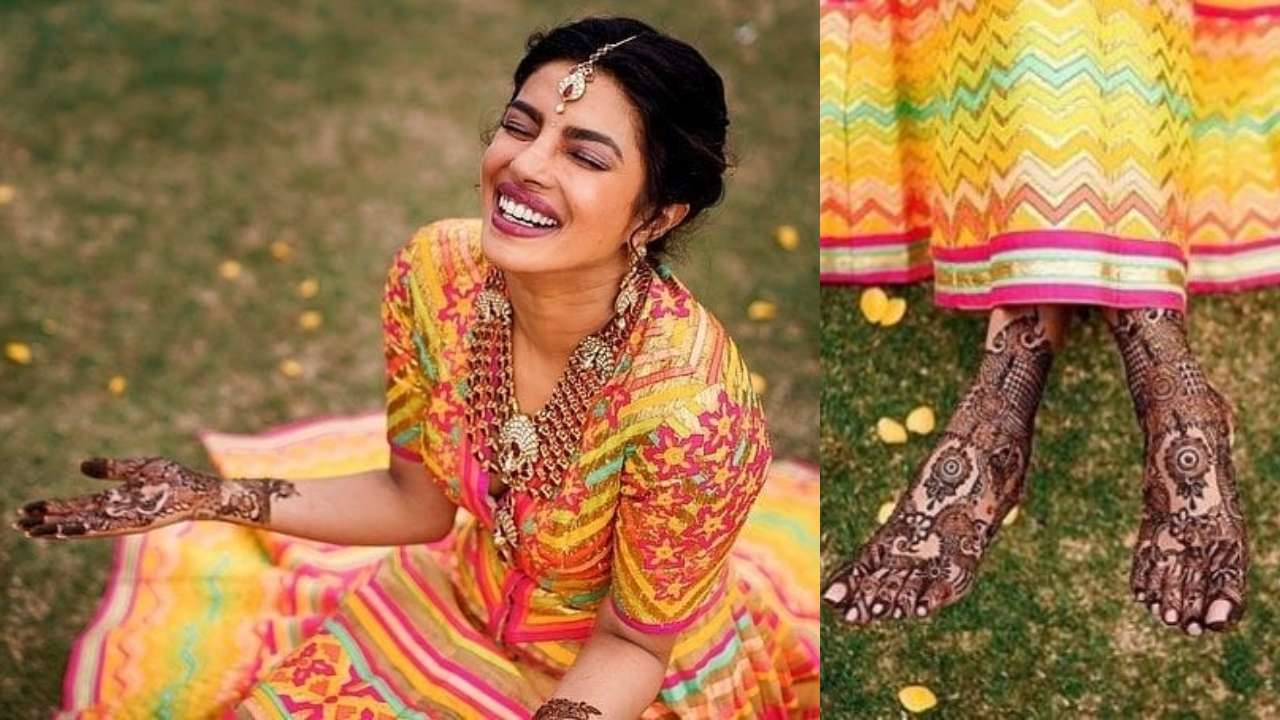 Priyanka Chopra opted for a vibrant and colorful mehndi look. She paired her vibrant lehenga with heirloom jewelry and a stunning floral bun, showcasing her impeccable sense of style. Additionally, she made history by being the first bride ever to wear a custom Ralph Lauren wedding gown, further solidifying her status as a fashion icon.
Sonam Kapoor Ahuja: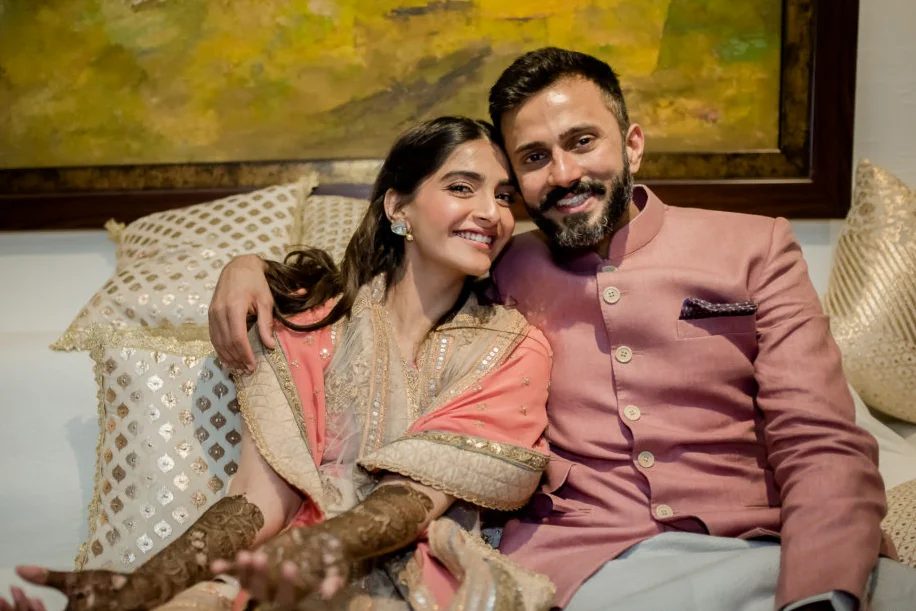 Sonam Kapoor Ahuja's mehndi look was the epitome of elegance. She wore a pastel-hued lehenga by designer Anuradha Vakil, adorned with intricate traditional motifs. The ensemble was complemented by exquisite jewelry and a radiant smile, making her look like a true Bollywood diva.
Kareena Kapoor Khan: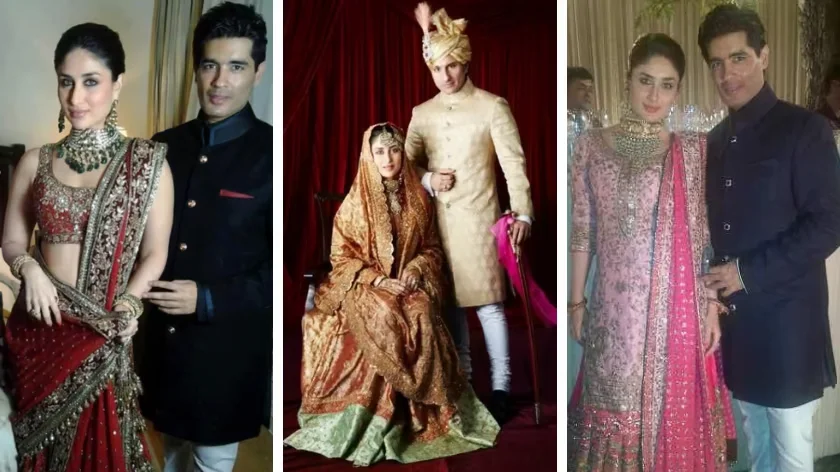 Kareena Kapoor Khan embraced a minimalist yet chic mehndi look. She opted for a yellow and green sharara ensemble by designer Ritu Kumar, featuring delicate embroidery and mirror work. With her signature confidence and grace, Kareena effortlessly carried this refreshing and vibrant look.
Mira Rajput Kapoor: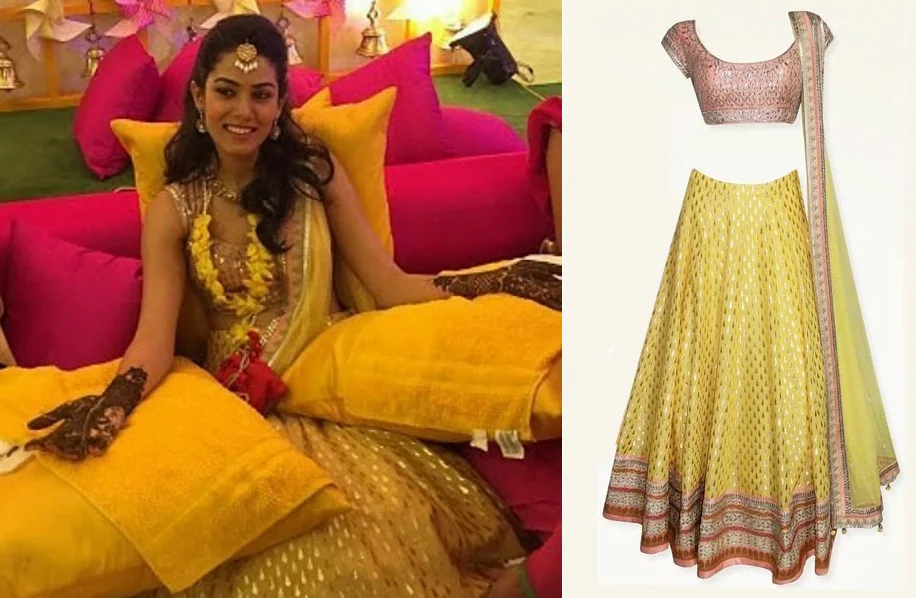 Mira Rajput Kapoor's mehndi look was a perfect amalgamation of traditional and contemporary elements. She chose a vibrant lehenga by designer Anamika Khanna, featuring intricate mirror work and embroidery. With her elegant styling and minimalistic jewelry, Mira showcased her impeccable sense of style. Since she had a very Intimate Wedding Celebration her style and sense of choice could be seen in the choice of her mehndi look.
Conclusion:
B-Town Bridal Mehndi looks with their unforgettable and mesmerizing ensembles. From Kiara Advani's sunshiney chikankari lehenga to Priyanka Chopra's vibrant color palette, each bride has left an indelible mark on the world of bridal fashion. Let these B-Town beauties inspire you to create a mehndi look that is truly extraordinary and reflects your unique style and personality.  Also, Communication with your Partner regarding your look can also be proven a good way in making a decision.