A once-in-a-lifetime chance to go on a romantic vacation with your spouse is your honeymoon. Making lasting memories requires picking the ideal location. The Most Exotic and Romantic islands For Honeymoon on Earth are your best bet if you're looking for a genuinely exceptional experience.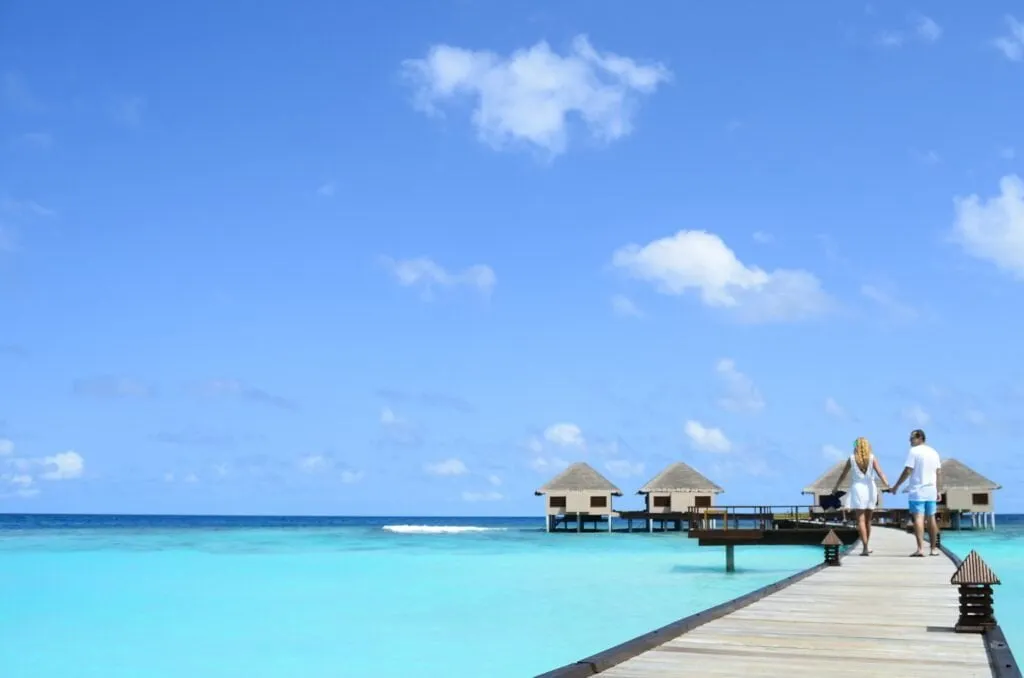 These locations provide unmatched beauty and tranquility, from the Maldives' crystal-clear oceans to Bali's lush landscapes. We'll guide you through the best honeymoon destinations in this post, providing the best islands for a honeymoon. Get ready for an enchanted and unforgettable beginning to your married life.
Why choose exotic islands for honeymoons?
1. Stunning Natural Beauty: Exotic islands have beautiful scenery, clean beaches, crystal-clear oceans, and lush foliage. The stunning scenery promotes peace and serenity, making it an ideal place for newlyweds.
2. Seclusion and privacy: Honeymoons are intended to be intimate and private. Exotic islands frequently have quiet resorts or private villas that allow couples to spend uninterrupted quality time together. The remoteness adds to the romantic mood by offering a feeling of exclusivity.
3. Adventure and Excitement: Many exotic islands provide fascinating activities for couples seeking adventure, such as snorkeling, scuba diving, hiking, and finding hidden coves. These events leave a lasting impression and contribute to the excitement of the honeymoon.
4. Luxury and Romance: Exotic islands are well-known for their magnificent resorts and first-rate facilities. These resorts pamper couples with great experiences ranging from overwater bungalows to private dining beneath the stars, offering a genuinely romantic and luxurious honeymoon.
Also Read | 101 Best Heart-Warming Birthday Wishes For Your Girlfriend
Islands to consider For Honeymoon In 2023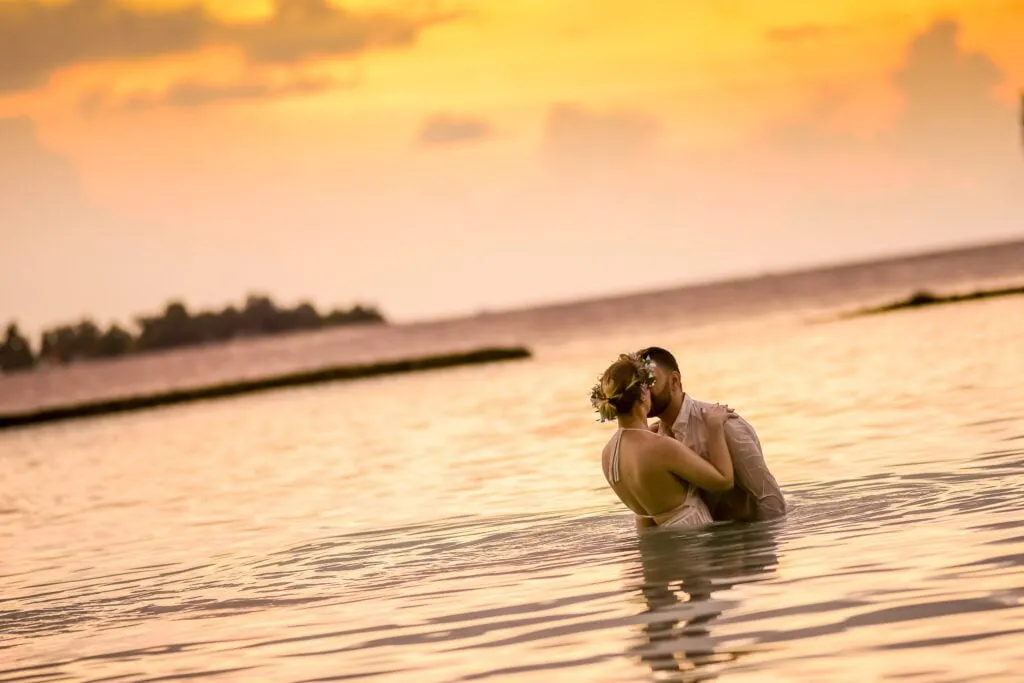 Here are some of the Best islands for a honeymoon, including private islands. Read on for more information about the greatest honeymoon islands, and then make your choice for your honeymoon.
1. The Maldives: A Tropical Paradise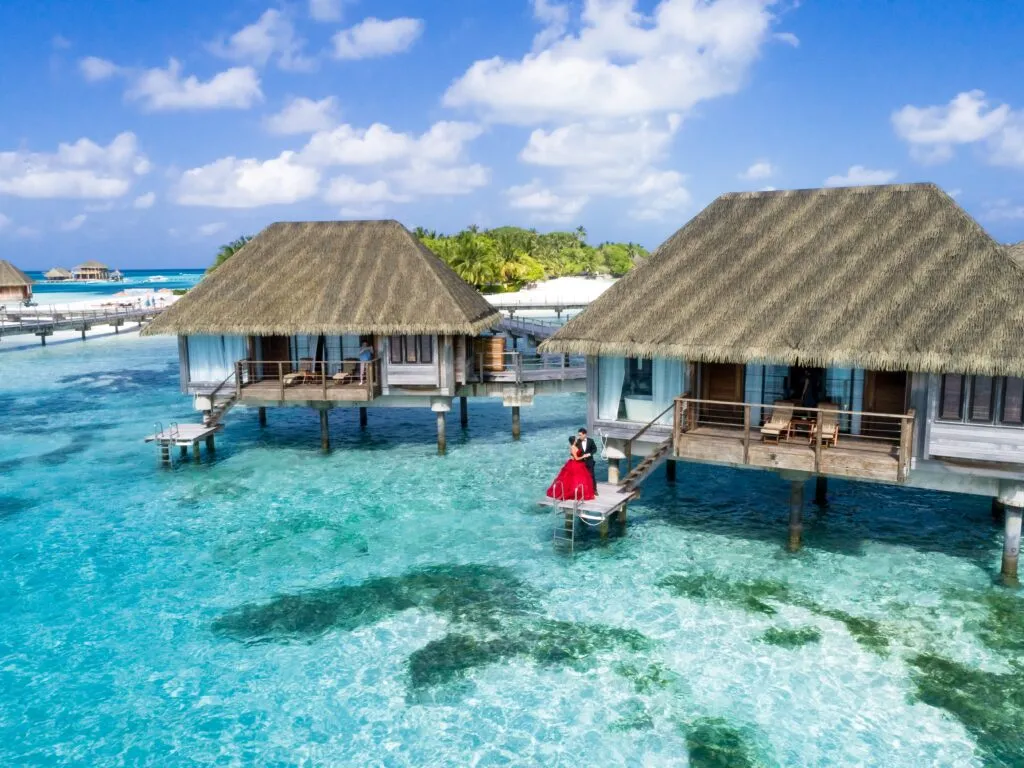 The Maldives, located in the center of the Indian Ocean, is an idyllic setting for a Romantic Honeymoon island. This island nation promises a genuinely memorable vacation with its pristine sandy beaches, vivid coral reefs, and magnificent overwater villas. Take long walks along the beach, soak up the sun, and swim in crystal-clear waters abounding with marine life. Pamper yourself with rejuvenating spa treatments and delicious cuisine. The Maldives is a sliver of heaven that will take your breath away and leave you and your spouse speechless.
2. Bora Bora: The Jewel of the Pacific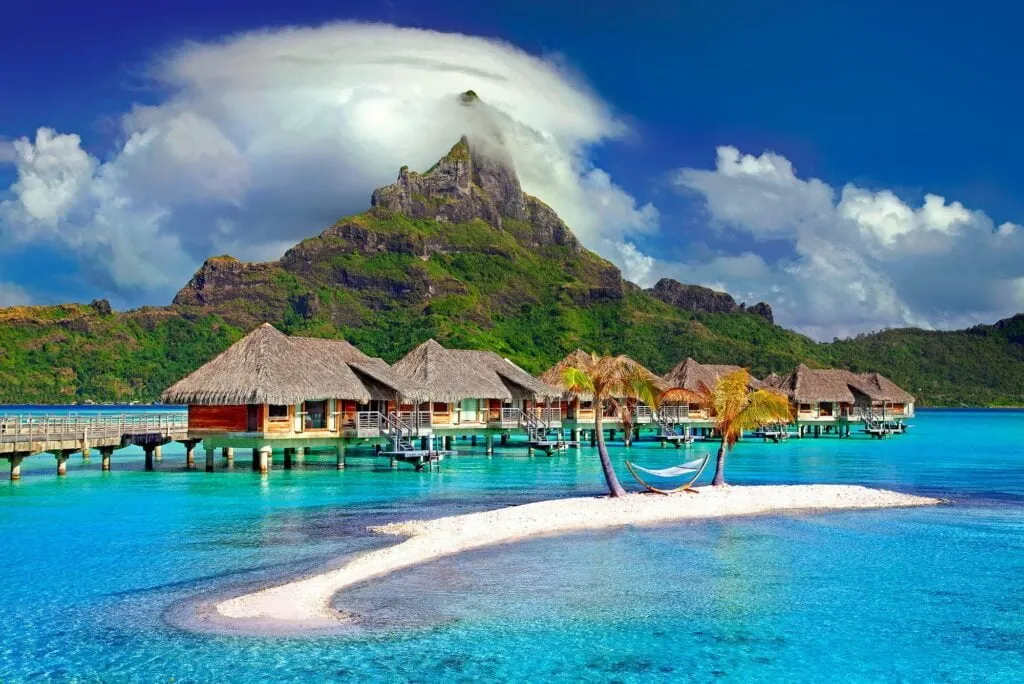 Bora Bora, sometimes known as the "Pearl of the Pacific," is a stunning island in French Polynesia. Bora Bora is a honeymooner's paradise, known for its turquoise lagoons, lush flora, and overwater bungalows. Dive into the beautiful coral gardens, take a romantic sunset cruise, or simply lay back and relax on the soft, sandy beaches. Bora Bora offers privacy, elegance, and magnificent natural beauty, making it a perfect romantic getaway place for couples.
3. Seychelles: A Haven of Tranquility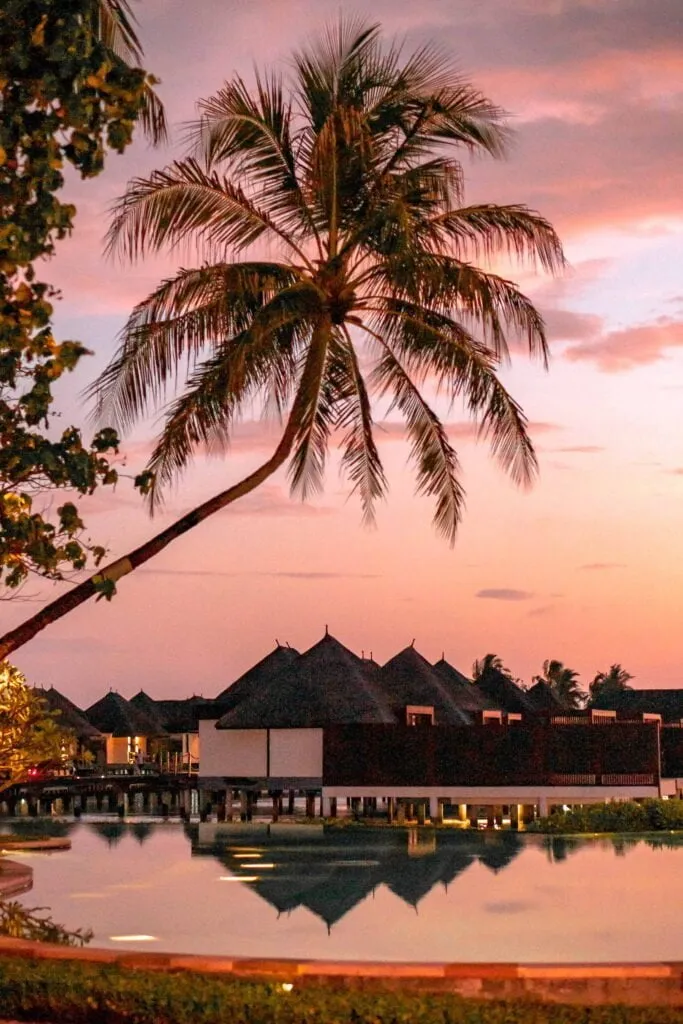 The Seychelles archipelago, located off Africa's east coast, is a refuge of peace and natural beauty. The setting for your honeymoon is surreal, with pristine white-sand beaches, towering granite boulders, and crystal-clear oceans. Explore Praslin Island's Vallée de Mai Nature Reserve, noted for its unique Coco de Mer palms, or snorkel together in the bright coral reefs. Seychelles, with its unspoiled beauty and quiet atmosphere, provides a romantic escape unlike any other.
4. Bali: Where Love Meets Nature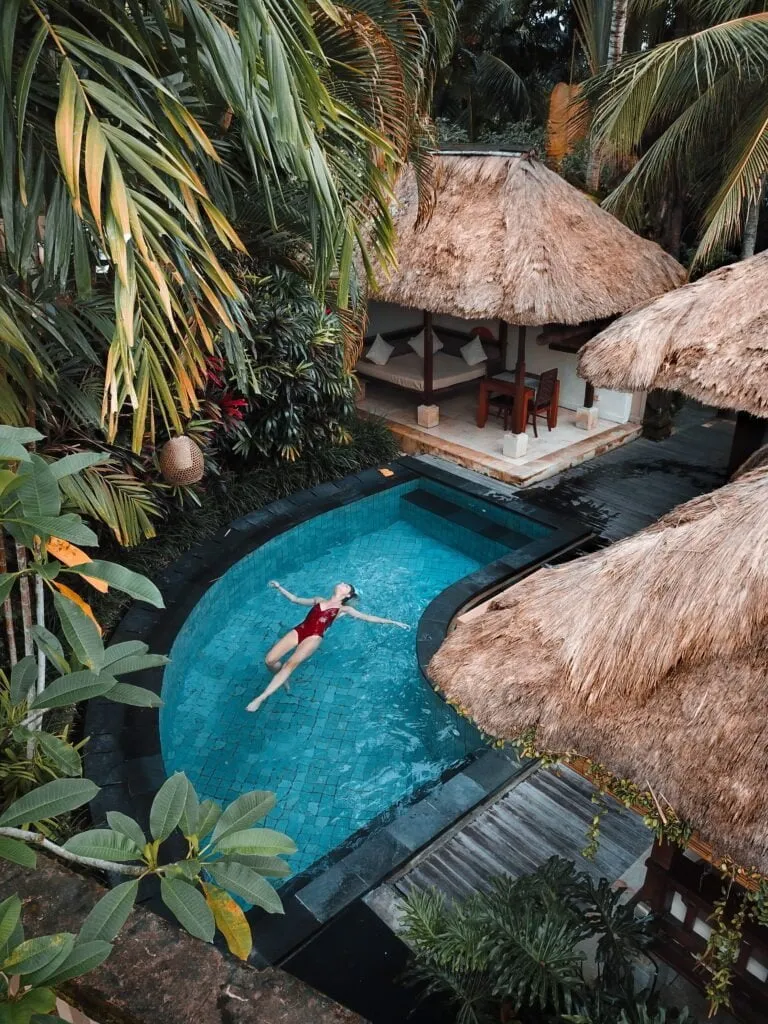 Bali, the "Island of the Gods," combines natural beauty, rich culture, and warm hospitality to create an idyllic honeymoon destination. From stunning beaches to lush rice terraces and ancient temples, Bali offers a diverse range of experiences. Immerse yourselves in the vibrant Balinese culture, enjoy a couple's spa treatment, or embark on a sunrise hike up Mount Batur. With its blend of romance and adventure, Bali is a true paradise for honeymooners.
5. Santorini: A Greek Island Dream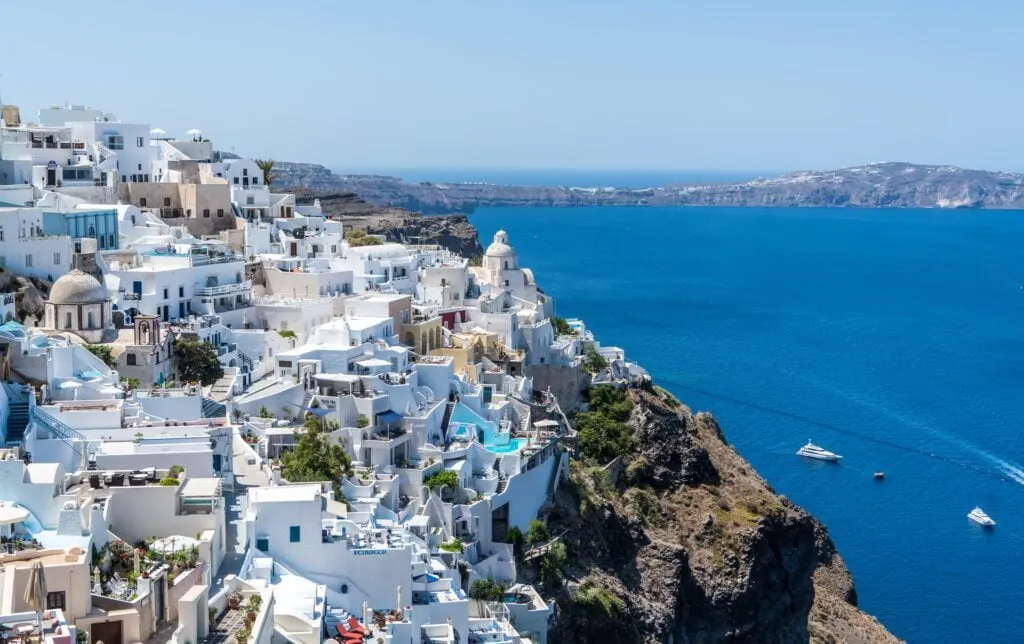 Santorini, a serene Aegean Sea island, is known for its breathtaking sunsets, blue-domed churches, and whitewashed homes situated on cliffs. You'll feel like you've walked into a postcard as you stroll through Oia's quaint streets or rest on a private balcony overlooking the caldera. Indulge in local cuisine, discover old archaeological sites, or sail across the volcanic landscapes of the island. Santorini's beauty and romantic love will leave you with unforgettable memories.
6. Fiji: A South Pacific Gem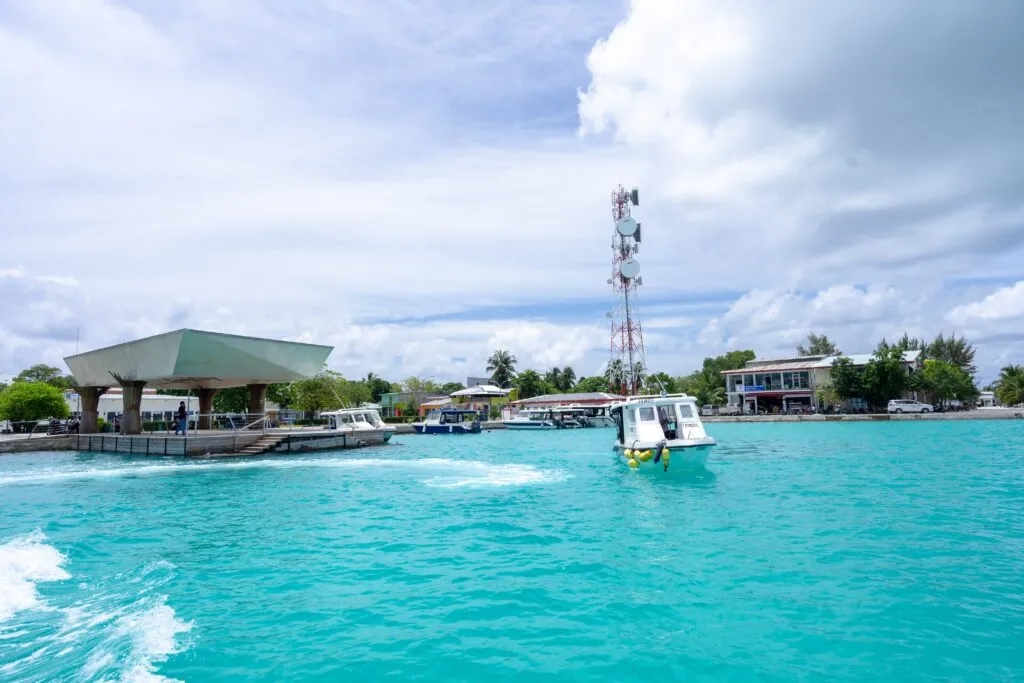 Fiji, a tropical paradise in the South Pacific, offers a unique blend of relaxation and adventure. With its palm-fringed beaches, turquoise waters, and warm hospitality, Fiji is a true escape from the ordinary. Snorkel in the Great Astrolabe Reef, take a dip in the natural hot springs, or enjoy a traditional Fijian feast. The warmth of the Fijian people and the natural wonders of the islands make Fiji an ideal choice for a romantic honeymoon.
Also Read | Choosing The Best Wedding Dress: A Bride's Guide
7. Tahiti: The Pearl of French Polynesia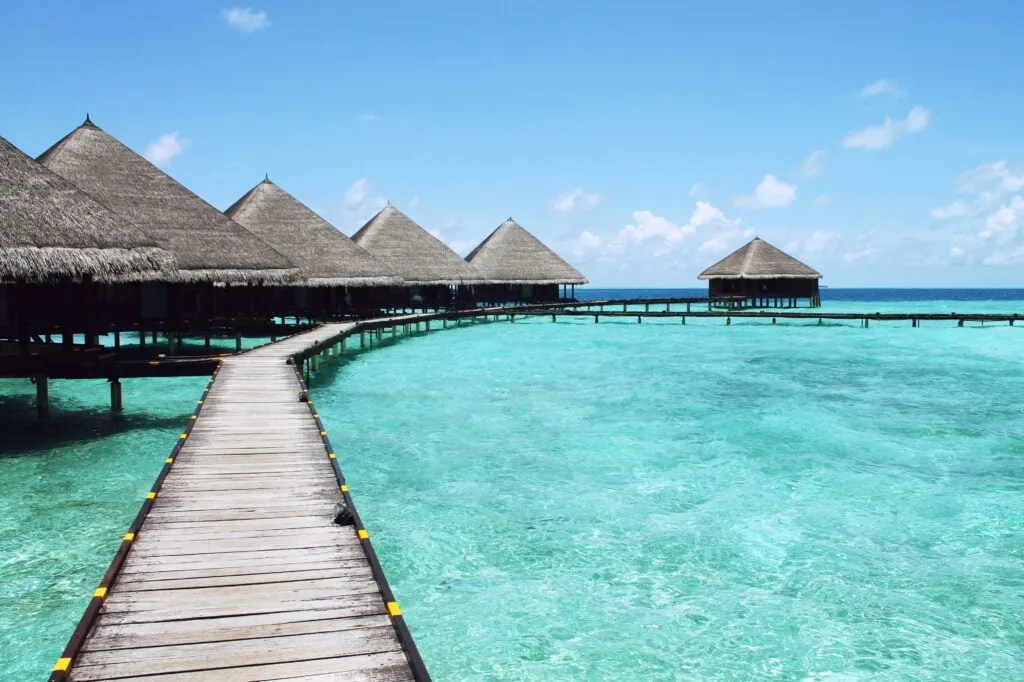 Tahiti, the largest island in French Polynesia, is a captivating destination that will sweep you off your feet. From its lush rainforests and black-sand beaches to its vibrant coral reefs and luxurious resorts, Tahiti offers the perfect blend of adventure and relaxation. Explore the island's waterfalls, go on a 4×4 safari, or simply unwind in an overwater bungalow. Tahiti's natural beauty and serene atmosphere create an intimate setting for a Romantic Honeymoon island.
8. Maui: Romance in Hawaiian Paradise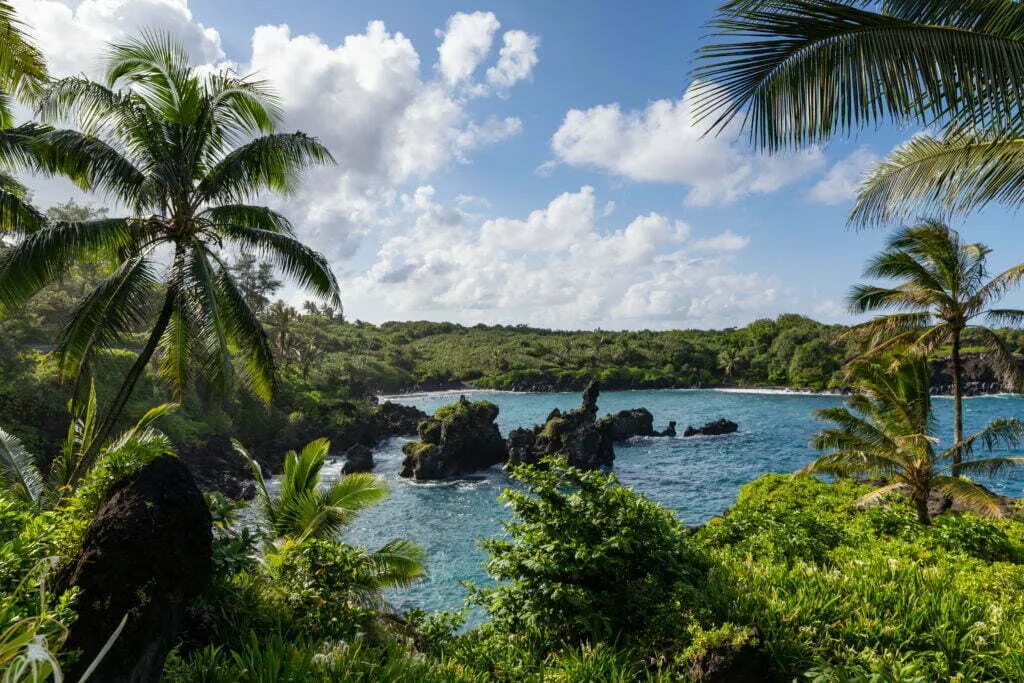 By dronepicr
Maui, one of the Hawaiian Islands, is synonymous with romance and natural beauty. With its golden beaches, dramatic cliffs, and lush rainforests, Maui provides a picturesque backdrop for your honeymoon. Watch the sunrise from the summit of Haleakala, embark on a scenic road trip along the iconic Road to Hana, or take a sunset cruise along the coastline. Maui's charm and laid-back vibe make it a popular choice for couples seeking an idyllic honeymoon destination.
9. St. Lucia: Caribbean Serenity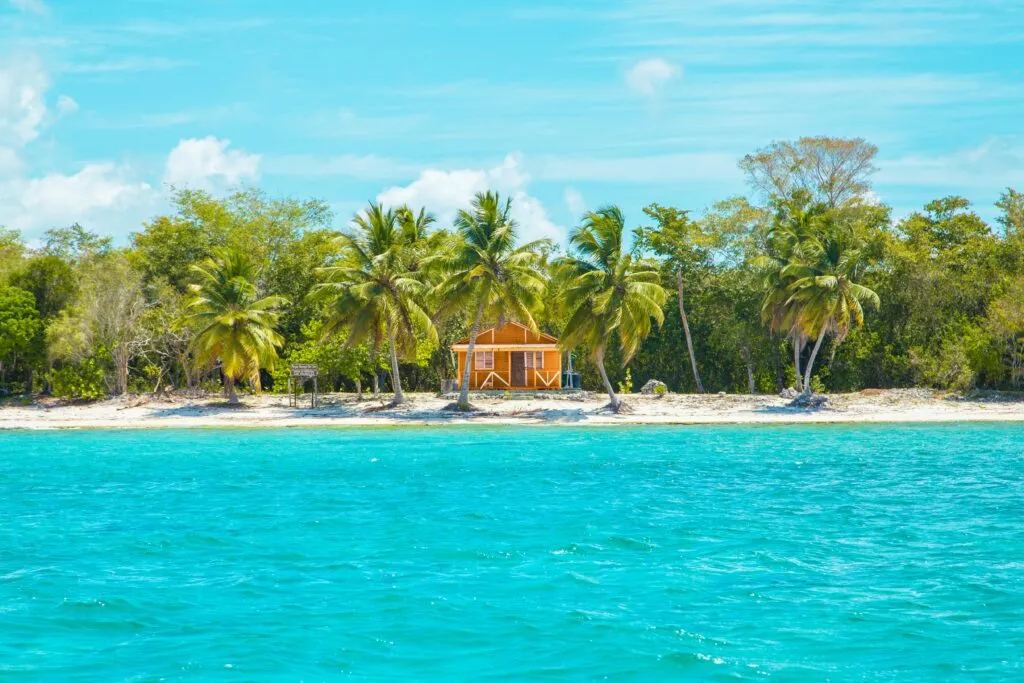 St. Lucia, located in the eastern Caribbean, is a tropical paradise known for its dramatic landscapes and warm hospitality. This island offers a range of experiences, from relaxing on pristine beaches to exploring lush rainforests and stunning waterfalls. Take a dip in the mineral-rich mud baths, go snorkeling in the crystal-clear waters, or hike the iconic Gros Piton. St. Lucia's natural beauty and serene atmosphere make it a captivating choice for a romantic honeymoon.
10. Mauritius: A Blend of Culture and Luxury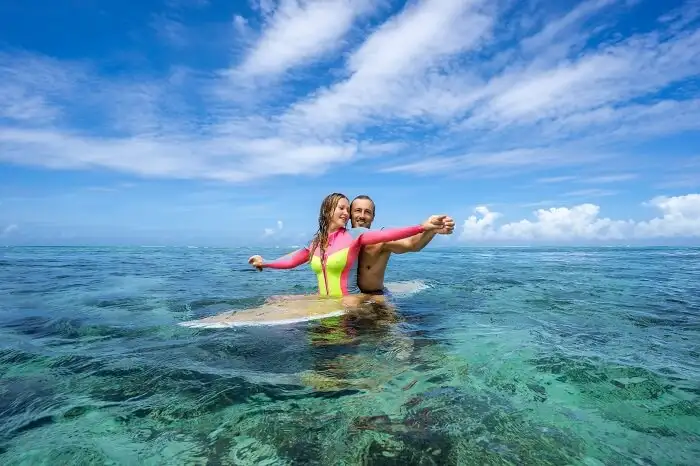 Mauritius, an island nation in the Indian Ocean, is a melting pot of cultures, breathtaking landscapes, and luxurious resorts. Mauritius offers a paradise-like setting for your honeymoon with its powder-white beaches, turquoise lagoons, and vibrant coral reefs. Discover the colorful underwater world through snorkeling or diving, explore the lush botanical gardens, or indulge in a romantic dinner on a private beach. Mauritius combines natural beauty, cultural diversity, and luxury, creating an enchanting experience for couples.
11. Ibiza: The Spanish Island of Passion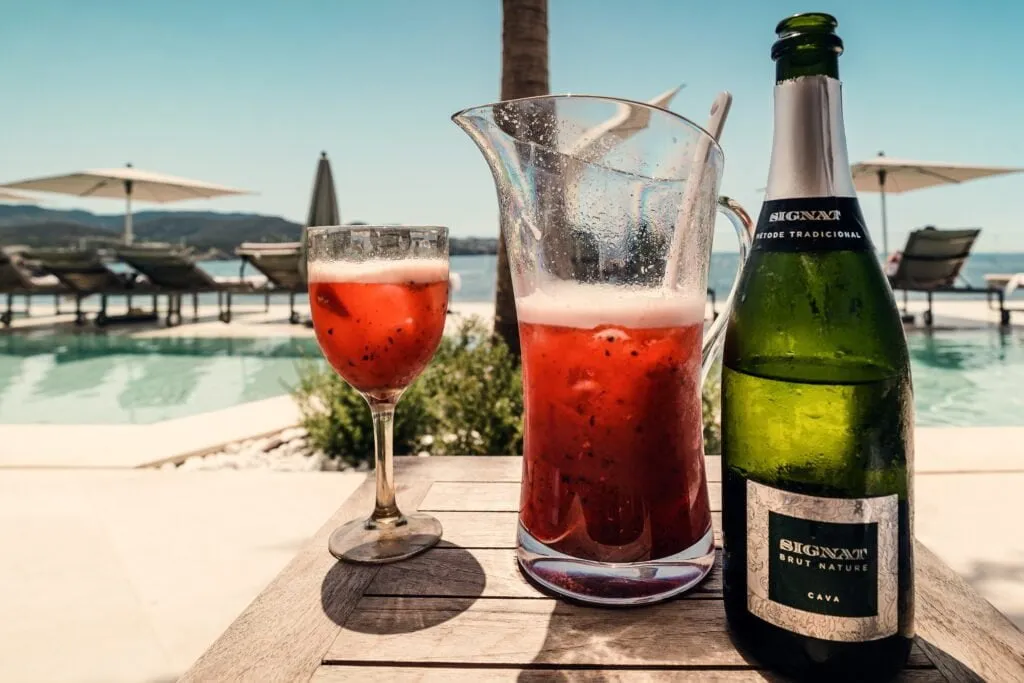 Ibiza, known for its vibrant nightlife and lively atmosphere, also hides secluded coves and stunning beaches, perfect for a romantic honeymoon. Beyond the party scene, Ibiza offers picturesque villages, breathtaking sunsets, and delicious Mediterranean cuisine. Discover the hidden gems of the island, explore the tranquil Formentera island, or embark on a sailing adventure along the coast. Ibiza's combination of passion, beauty, and serenity will leave you spellbound.
Also Read | 10 Matrimonial Profile Samples for Boys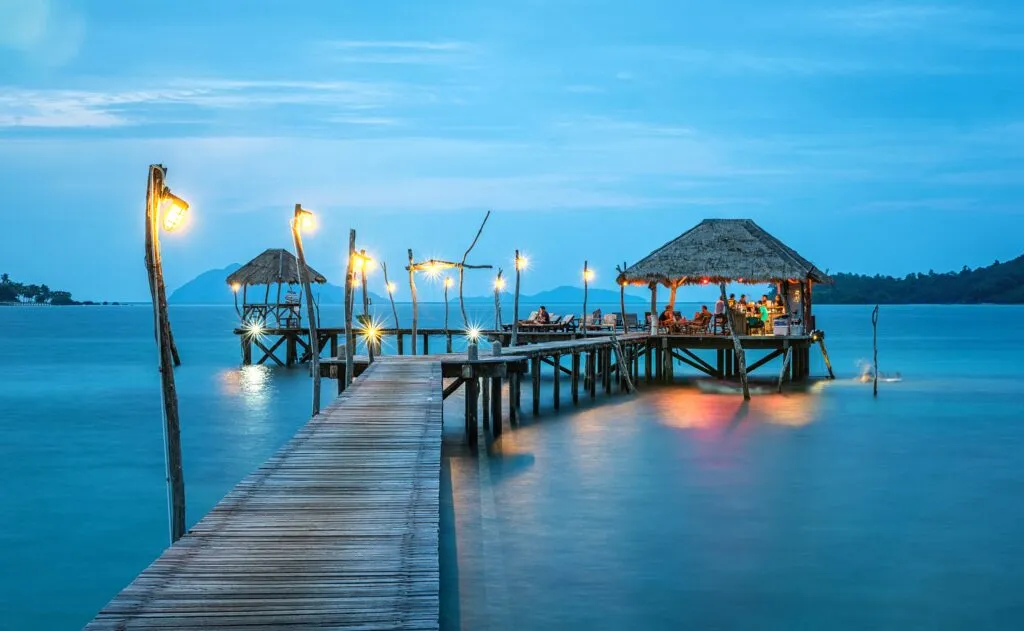 The Cook Islands, located in the South Pacific, offer a secluded and intimate honeymoon experience. With pristine beaches, turquoise waters, and lush greenery, these islands exude natural beauty. Explore the Aitutaki Lagoon, visit the Te Vara Nui cultural village, or simply unwind in a beachfront villa. The Cook Islands provide the perfect backdrop for a peaceful and romantic escape.
13. Capri: Italian Elegance by the Sea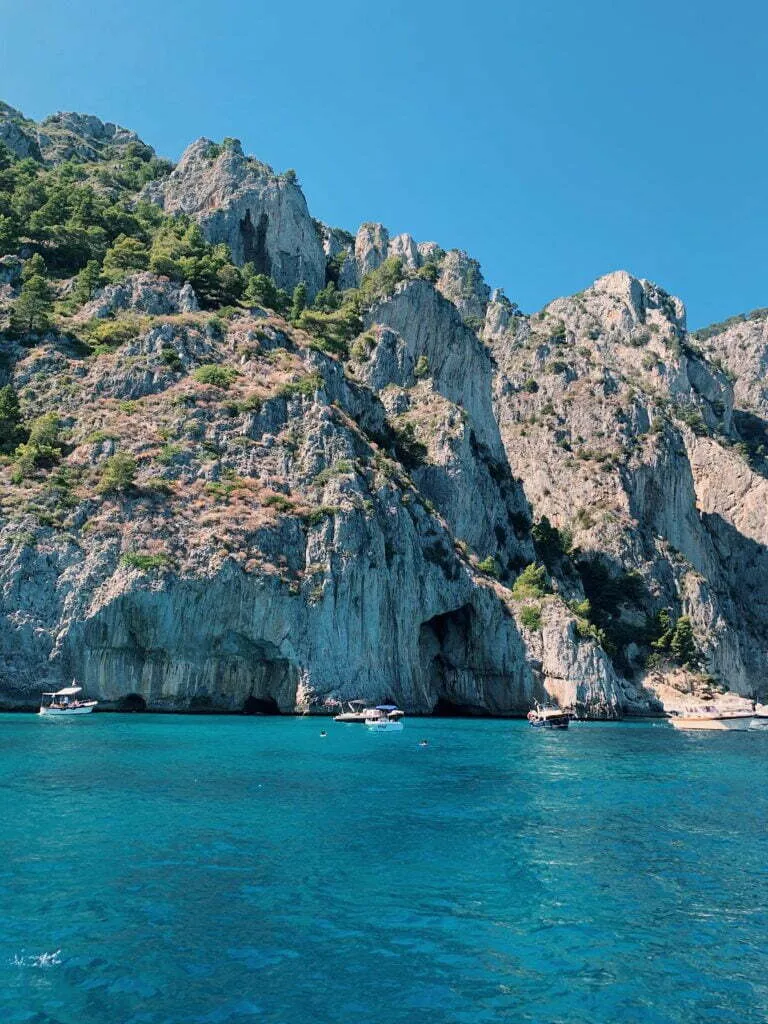 Capri, a small Italian island, is synonymous with luxury, elegance, and natural beauty. Capri provides a range of wonderful activities, from the famed Blue Grotto to the lovely village of Anacapri. Explore the meandering alleyways of the island, dine on Italian food, or take a boat excursion around the island. Capri's elegance and charm make it a perfect destination for a romantic honeymoon.
14. Zanzibar: The Spice Island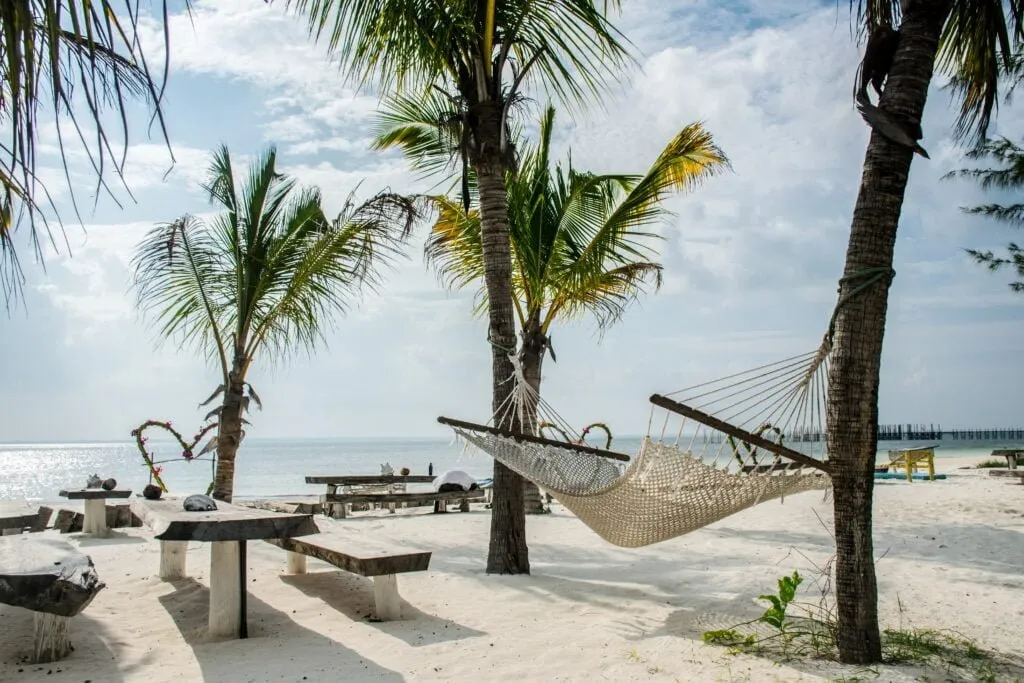 Zanzibar, a Tanzanian archipelago, offers magnificent beaches, spice shops, and a rich cultural legacy. Take a stroll through Stone Town's small streets, see the scented spice plantations, or unwind on Nungwi Beach's pure white sands. Zanzibar's unique blend of history, culture, and natural beauty makes for an unforgettable honeymoon destination.
15. Mykonos, Greece: Island's Pristine Beauty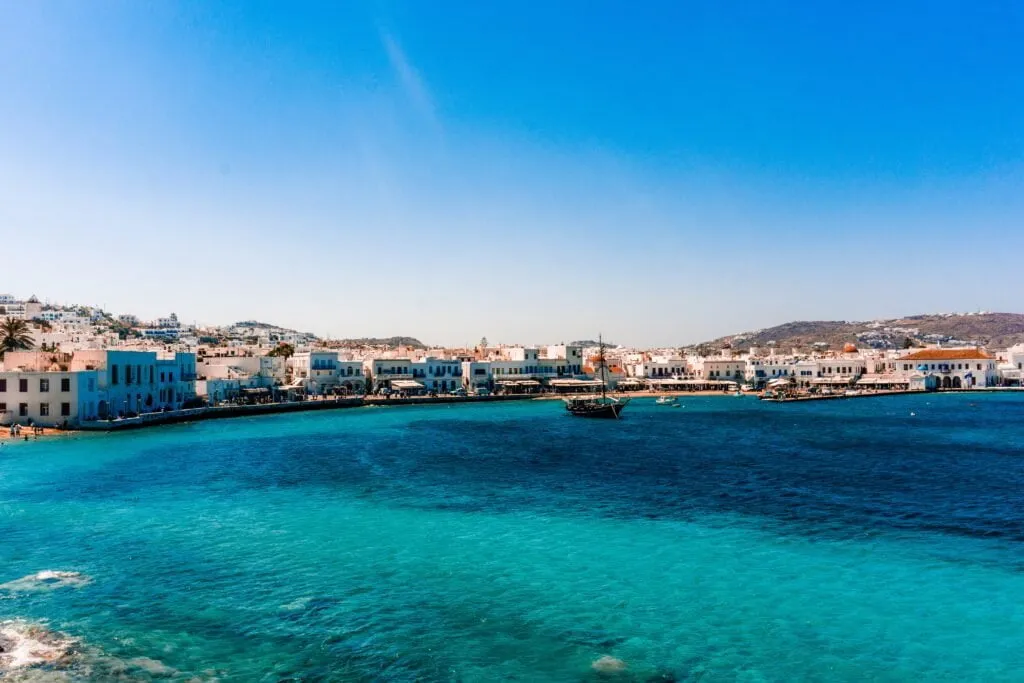 Mykonos, a Greek island famous for its whitewashed buildings and active nightlife, is a tropical paradise with beautiful beaches and verdant surroundings. It is famous for its crystal-clear waters. Its natural beauty and serenity make it an ideal location for a romantic honeymoon.
16. Bahamas: The Tranquil Charm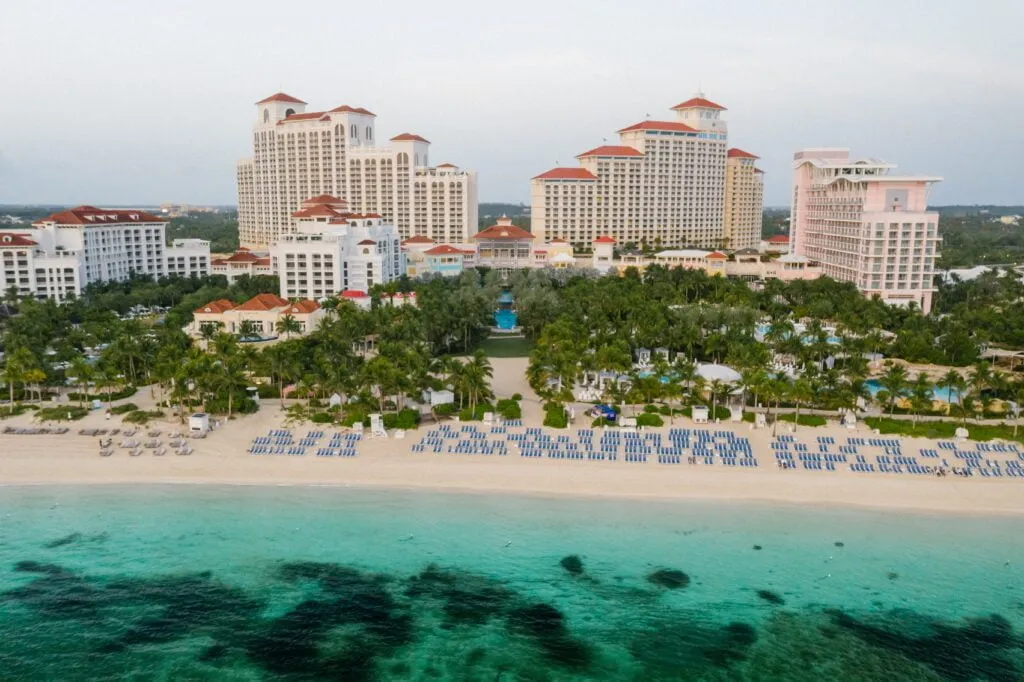 The Bahamas is an archipelago of nearly 700 islands. It's famous for its white-sand beaches, clean waters, and opulent resorts. Long walks along gorgeous beaches, snorkeling in vibrant coral reefs, or simply relaxing in a private house overlooking the blue waters are all options. Its peaceful appeal and stunning environment set the tone for a wonderful honeymoon.
17. Bali: Ubud's Cultural Delights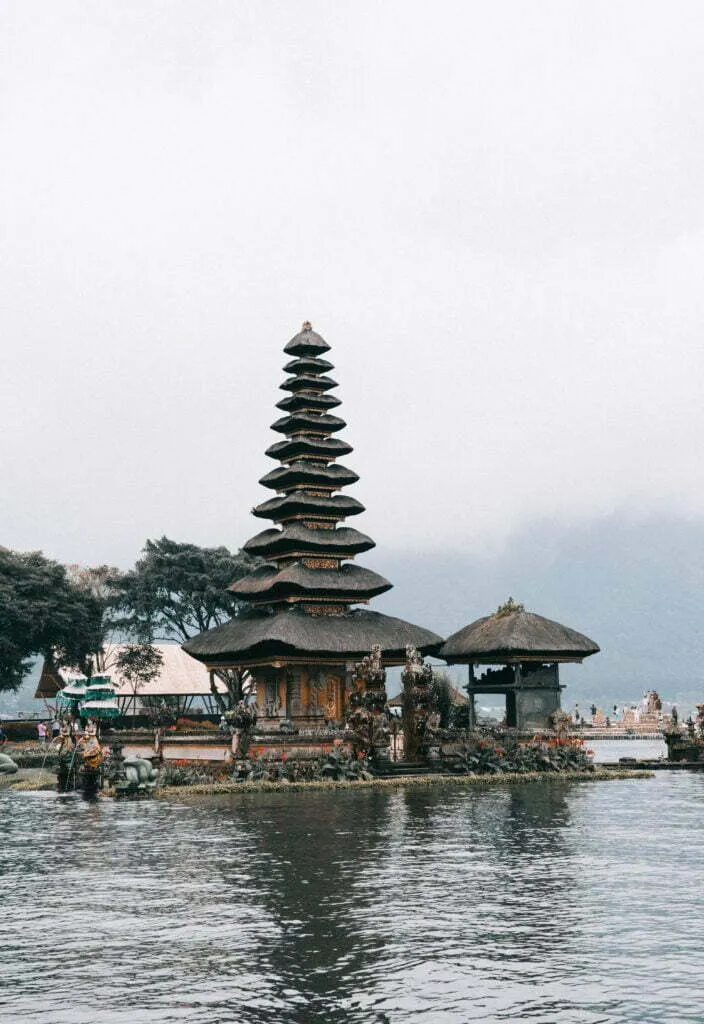 Ubud, Bali's cultural center, is a haven for art lovers, nature lovers, and spiritual seekers. Explore the verdant rice terraces, historic temples, and spiritual vacations, or immerse yourself in traditional Balinese arts and crafts. Ubud's calm ambiance and cultural richness make it a mesmerizing experience for couples looking for a charmed and adventurous honeymoon island.
18. Phuket: Thailand's Breathtaking Sunsets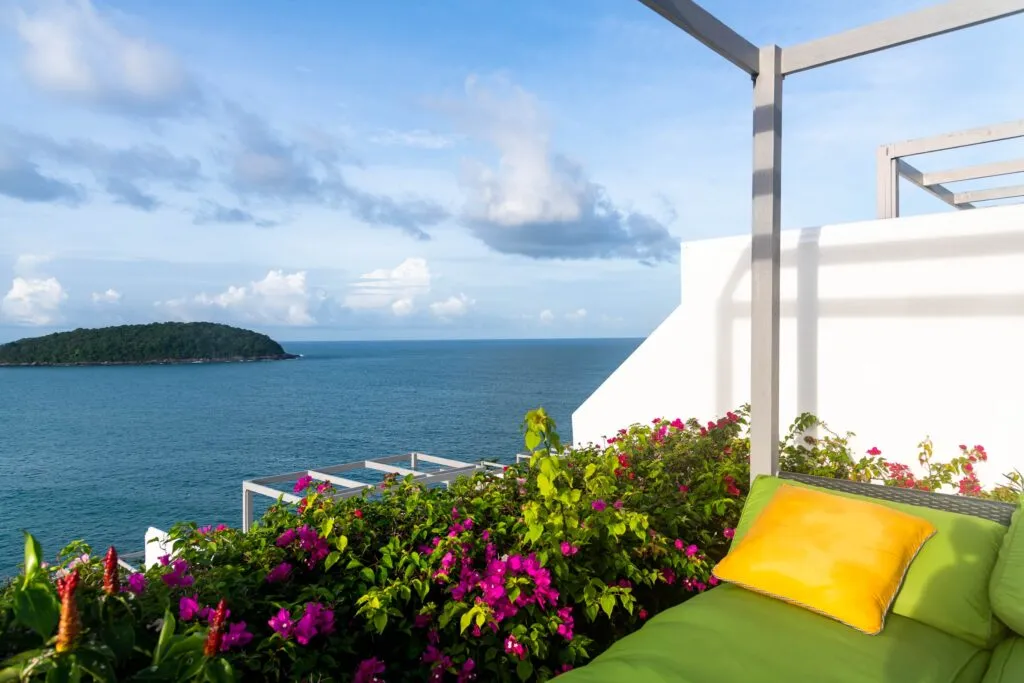 Phuket is the largest island in Thailand. It is well-known for its beaches, nightlife, and shopping opportunities. Take a romantic walk along the beach, swim in the warm lagoon, or simply unwind under a palm tree. Its unrivaled beauty and romantic ambiance make it an ideal location for honeymooners to relax and create lasting memories.
Also Read | The Power of Love and Communication: A Guide to Indian Marriages with Matrimilan
19. Turks and Caicos: The Secluded Retreat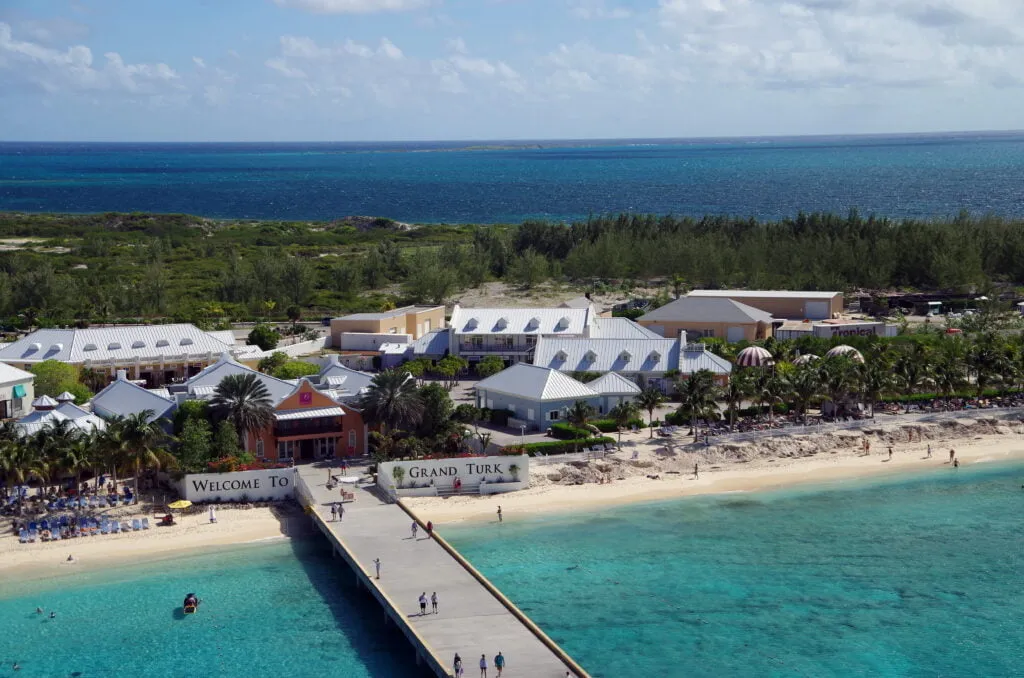 By Balou46
Turks and Caicos Islands is a British overseas territory famous for its white sand beaches, turquoise oceans, and coral reefs. Stay in a unique overwater cottage, get spa treatments with a view of the ocean, or go on a private island-hopping tour. It's a beautiful place for couples looking for an exclusive and romantic honeymoon retreat.
20. The South Island, New Zealand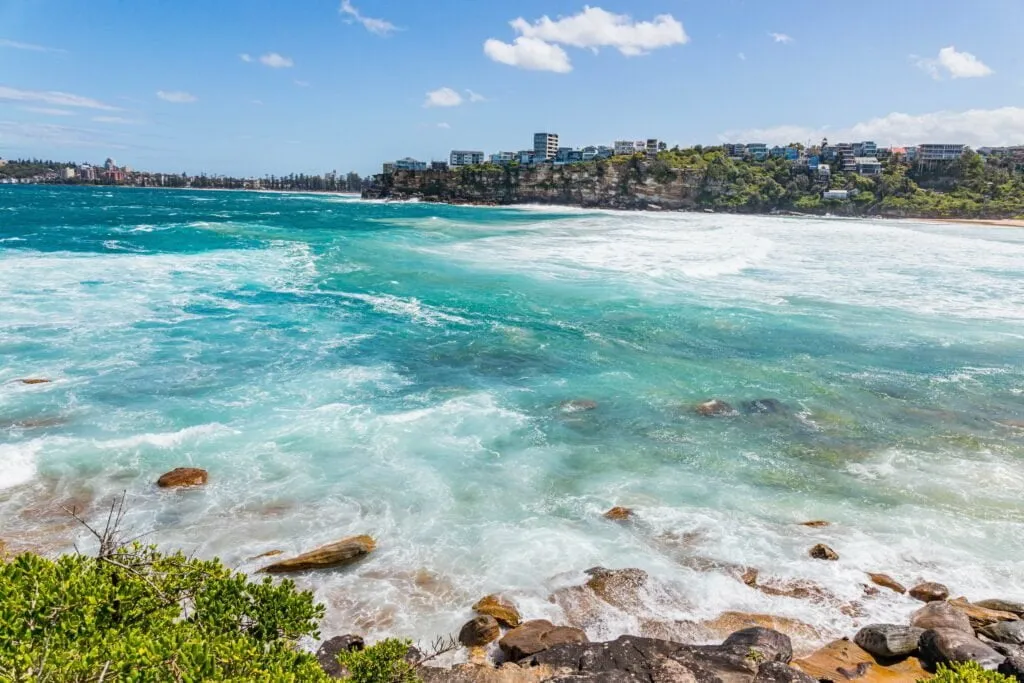 The South Island is nothing less than a lovely haven for couples to embark on their adventure together. Nature's beauty, calm weather, and, of course, hot coasts make it an ideal honeymoon destination.
Conclusion
Choosing the appropriate honeymoon destination sets the tone for an amazing vacation. A honeymoon on an exotic island promises to be beautiful and romantic for couples. These places' magnificent natural beauty, isolation, adventure, luxury, and romance provide the best islands for a honeymoon. Whether you go to the Maldives, Bora Bora, Seychelles, or another exotic island, the memories you make with your loved one will last a lifetime.
FAQs
How do I choose the perfect island for my honeymoon?

To choose the perfect island for your honeymoon, consider factors such as your budget, preferred activities, desired level of seclusion, and the type of natural beauty you wish to experience. Research each destination, read reviews and consider consulting with a travel expert for personalized recommendations.

What activities can couples enjoy on these exotic islands?

Couples can enjoy a variety of activities on these exotic islands, including snorkeling, diving, romantic beach picnics, sunset cruises, couples' spa treatments, exploring cultural landmarks, hiking, and indulging in local cuisine.

What is the best time to visit these destinations for a honeymoon?

The best time to visit these destinations for a honeymoon may vary depending on the location. Research the weather patterns, peak seasons, and off-peak seasons for each destination to determine the ideal time to visit.

Are these destinations suitable for all budgets?

These destinations offer a range of accommodation options, from budget-friendly to luxurious resorts. With careful planning and research, couples can find options that suit their budget and still enjoy a memorable honeymoon experience.